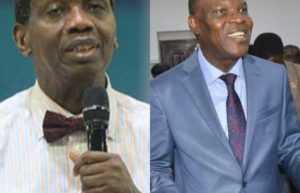 Pastor E. A. Adeboye, the General Overseer of the Redeemed Christian Church of God (RCCG), on Saturday appointed a new General Overseer (GO) for the church in Nigeria as he retires, ahead of his 75th birthday on 2 March.
The new General Overseer is Pastor Joshua Obayemi. However, Adeboye is expected to remain as the general overseer of the Church worldwide.
His resignation, sources said was informed by a new legal requirement guiding the operations of registered churches, mosques and CSOs in the country. Founders of such organisations, the source said, now have a maximum period of twenty years to lead their organisations. In retirement, they are not permitted to hand over to their families.
Adeboye was born on March 2, 1942, in Ifewara, Osun State.
Pastor Adeboye had his B.Sc. in Mathematics at University of Nigeria Nsukka, and subsequently got his PhD in applied mathematics from the University of Lagos, and worked as a lecturer in Mathematics at the universities of Lagos and Ilorin, before going into full time priesthood in 1984.
After joining the RCCG in 1973, he began working to translate the sermons of its then Pastor and founder, Rev. Josiah Olufemi Akindayomi, from Yoruba into English.
In 1981, Adeboye was appointed General Overseer of the church. He took over from Papa Akindayomi, who had died the previous year. For three years he performed the role part-time, still lecturing at Ilorin.
He finally gave up his university position to preach full-time.
The church, which was not well known prior to Adeboye's ascendance has grown phenomenally, to become Nigeria's biggest, with branches globally in about 190 countries, including more than 14,000 in Nigeria.
Adeboye has stated that his aim is to put a church within five minutes of every person on Earth. He married Adenike, now 68 in 1967. She was born on 13th July 1948.
NAN further reports that Obayemi was appointed the new GO at the Annual Ministers Thanksgiving at Shimawa, in Ogun State.
The newly appointed GO was the former Special Assistant to the General Overseer (SATGO) on Finance.
Adeboye also appointed Pastor Johnson Odesola, who was the Special Assistant on Administration and Personnel, as the church Secretary.