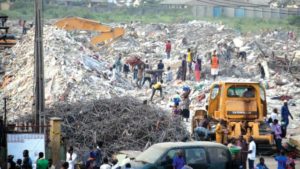 The Lagos State government, at the weekend brought down the Olorunsogo market in Oshodi. The demolition of the popular curtain and interior decoration material market commenced around 12:00pm.
Traders stared in grief and disbelief as the 14-building plazas housing 368 units of shops, 144 open stores and 129 small units stores for meat sellers, household items traders among others, became rubbles in a hail of dust. Destroyed commodities varied from curtain materials to hanging poles, sewing machines, electrical appliances, beauty kits, etc.
The police and Lagos Task Force officials were heavily deployed to the area to prevent the area boys from fomenting trouble and looting the goods.
The demolition was still in progress yesterday with the Access Bank building and the shopping complex giving way under the roar of the bulldozers.
Some of the affected traders expressed displeasure with government's action. According to one of the traders, "those that carried out the demolition came at midnight on Saturday, especially at a time when many of the traders have travelled to the village for Christmas and were yet to return.
"Most of their goods were inside the shops as at the time the demolition was carried out. I could not pick anything from my shop because it was at dawn before I could come here. The value of items destroyed is several millions of naira, as I just stocked for the New Year. Though we were served notice to vacate the place, we were, however, not told the specific time the demolition would be carried out."
To prevent a similar fate, traders at the Ojodu Market yesterday stormed the Lagos State House of Assembly over an alleged plan to demolish their market.
The panic-stricken traders passionately appealed to the Speaker of the Assembly, Mudashiru Obasa, to intervene so that the state government will not execute the demolition.
Leader of the protesters and treasurer of the Market Men and Women, Ojodu Retail Market Branch, Alhaja Fadeke Bello, said the traders were surprised, when some officials of the state government gave them only one day notice to move out.
"They called us for an emergency meeting yesterday that they were coming today to demolish the market and we told them that we could not accept that because of the short notice. This was why we decided to come and inform the governor, Speaker of the Assembly and our Iyaloja General, Alhaja Folashade Tinubu-Ojo."
Addressing the protesters, the Speaker urged them to be peaceful with their protests, promising to get across to the executive on the matter and report to the market leaders in due course.