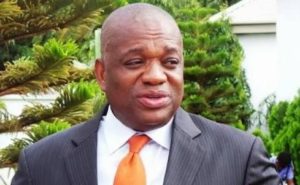 Prince Paul Ikonne, a founding member of the All Progressives Congress (APC) in Abia State, has said the party and President Muhammadu Buhari may not make a headway in the South-east if they rely on politicians like the former Abia State Governor, Orji Uzor Kalu.
While reacting to Kalu's defection to the APC, Ikonne  cautioned that his entry would not add any value to the party but rather bring confusion to a party already being rebuilt and repositioned for proper impact in 2019.
Ikonne, who was the gubernatorial candidate of the defunct Action Congress of Nigeria (ACN) in the 2011 elections in the state, said in an interview with journalists in Abuja yesterday that the former governor is in the habit of jumping from one party to another without commitment to any.
"It is nothing to celebrate. There is nothing to celebrate about Orji Kalu joining the party because Abia APC and South-east APC is being rebuilt and repositioned for proper impact for us to make the desired change like we did during the last presidential election; we played a critical role. So, having Kalu join the APC is nothing to celebrate.
"If everybody in Nigerian politics plays the kind of politics Kalu plays, you will find out that we won't make a headway. Joining the party today, the question I have for him is, what is he bringing to the table?" he queried.
"We are not against him as a person because he has freedom of association, in politics nobody can stop other from joining but you can't leave your shadow behind.
"What we don't want in South-east generally is confusion. We don't want the South-east APC to be thrown into confusion because we have prominent people,  people of honour, people also that laboured to make sure that PDP did not have a free day. We have the likes of Senator Chris Ngige, the governor of Imo State, Minister of Science and Technology and some other prominent people that are joining.
On whether he was speaking the minds of the party's  executive in the state, Ikonne said his views buttress the sentiments of the party leaders.
"The general impression even in the South-east is sad;  there is no celebration anywhere. You can't move anywhere and leave your shadow behind. His (Kalu) party, the Progressive Peoples Alliance (PPA) is still there and he said he has resigned. We have nothing against him as a person," he said.
According to him, those that joined the party in the zone left their former parties completely and tore their cards, "It is not that when they don't get what they want, they go back to their former parties. The South-east does not want crisis or confusion in the party."
When asked if he was afraid of the former governor taking over the structure of the party in the state, Ikonne dismissed such fears, saying that President Muhammadu Buhari needs men and women of integrity to work with.
Speaking on the brewing crisis in the APC, Ikonne said: "To the best of my knowledge, we have only one camp in the APC and what brought Mr. President on board is mass movement and integrity, so come 2019, APC will win based on the integrity of Mr.  President.
"Nigeria is coming back to international limelight because the president has a track record of integrity. Going by Kalu's antecedents, you know the answers. Right now, what we are looking for are men and women of integrity that will work with Mr President.
"I must say this that when you personalise politics around just a man such a man must be a man of integrity," he said.