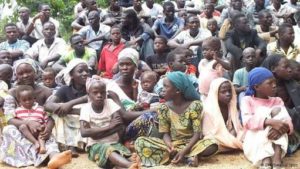 To support and address the humanitarian challenges of 2.2 million internally-displaced persons, IDPs, and other host communities in Borno and Adamawa states, European Union, EU, and the German Federal Ministry for Economic Cooperation have donated the sum of 54.5 million Euros.
This was disclosed, yesterday, by the Minister, Deputy Head of Delegation of European Union to Nigeria and ECOWAS, Mr. Richard Young and Minister Counsellor, Deputy Head of Mission, Embassy of the Federal Republic of Germany, Mrs. Regine Hess, at a summit in Maiduguri, the Borno State capital.
Mr. Young said of the 2.2 million IDPs, Borno and Adamawa have the highest percentages of displaced persons in Nigeria, with about 68 and 81 per cent, respectively, stressing that figure of forced displacement makes Nigeria the third country in the world with the largest number of IDPs, after Syria and Colombia.
In her brief remarks, Mrs. Hess said Borno and Adamawa states were selected based on the North-East Nigeria Recovery and Peace Building Assessment, RPBA, by the Nigerian Government, the EU, World Bank and UN2, which was recently concluded and to which this proposed action is fully aligned.
She pointed out that based on the RPBA assessment, the IDP population of Borno State is estimated at 1,427,999 people, followed by Adamawa with 150,718 as of April 2016.