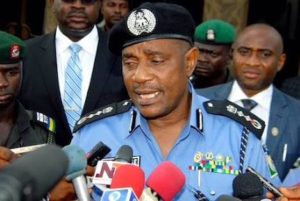 In a statement issued on Monday, former Inspector General of Police, Solomon Arase denied the allegation that some Police vehicles were missing (19) during his tenure. Arase rubbished the claims of the recoveries just as he raised an alarm that some forces were bent on tarnishing his image
The ex-IGP's reaction is coming on the heels of a similar one on July 18 and following another media report that 19 out of 24 vehicles he allegedly took away upon retirement had been recovered from him.
In a statement issued on Monday, Arase warned that he would not hesitate to seek legal redress if those desperate to tarnish his image fail to desist.
"It is embarrassing for me to wake up on Monday morning to be inundated with calls and messages on purported 19 vehicles recovered from me.
I wish to reassure the general public that there was nothing like that. Like I said in July, I did not take any police vehicle with me outside what I am entitled to, and so, there couldn't have been any vehicle recovered from me.
"If there was any such, those behind this campaign of calumny should please make the number plates of the vehicles public and where they were recovered from.
"Rather than dissipating so much energy on 'Project Drag Arase Down', I urge those behind this evil campaign to face their official responsibility for which much is expected from them by the nation.
"I have done my bit and my own records bear me witness. Let those daily frightened by the shadow of Arase learn to face reality and stop chasing shadows so that they are not hunted by same", the ex-police boss stated.
Upon claims by his successor Ibrahim Idris in July that he went away with 24 police vehicles, Arase had in a statement said " I suspect there must be a disconnect somewhere because every information needed by my successor are provided in my hand-over notes.
"It's unfortunate that this matter is being made a media issue because my successor has my telephone number and could have called me for any clarification or even sent me a text message rather than addressing the media on an issue well documented in my hand-over notes."
A media organization (not Top News) had reported that Inspector-General of Police, Ibrahim Idris, ordered an investigation into the purchase and distribution of vehicles by his predecessors adding that the probe was informed by the discovery that retiring officers, including former IGs and Deputy Inspectors-General of Police, were in the habit of appropriating police vehicles for their personal use.
It was reported that the investigation identified and recovered 19 police vehicles from former IG, Solomon Arase including assorted sedans, Sports Utility Vehicles and Pick Up Vans.