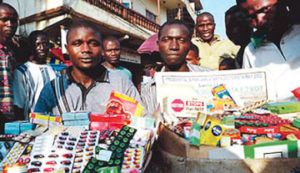 Pharmacists Council of Nigeria (PCN), has restated the Federal Government's commitment to ending open drug hawking by Aug. 1, 2017.
Elijah Mohammed, the registrar of the council, gave the assurance in an interview on Monday in Abuja described this as part of efforts to regulate drug distribution system in the country.
He said the move would assist in curtailing the menace of open drug sale.
Mohammed attributed major challenges in the health system to open drug hawking.
He added that a lot of the hawkers sold fake and adulterated drugs.
The registrar stated that coordinated wholesale centres are currently being built in four states of the federation where open sale of drugs is predominant.
He said that the drug dealers would be relocated to the centres to enable them to carry out their activities in a coordinated manner.
According to him, the centres would go a long way to curtailing drug hawking, among others, as there would be strict regulation of drug distribution and sales at the centres.
Reports has it that open drugs marketers or dealers are unlicensed medicines sellers in and around the streets, major markets like Idumota in Lagos, Onitsha, over head bridges, Sabongari in Kano and Nyanya-FCT, motor parks among others.
Noting the locations of the centres as Kano, Lagos, Onitsha, Aba Mohammed however said that construction of those facilities are currently on-going.
He however said that all dealers would be relocated to those centres to carry out their activities and would be properly regulated.
The registrar however said that anyone cut operating outside those centres after the specified date would be arrested and prosecuted by security agency.
"The issue of open drug market will come to an end by Aug 1st next year and we are working toward that and have put in place necessary measures to take care of that which is the coordinated wholesale centres.
"The coordinated wholesale centre in Onitsha which is situated in Oba will take care of the Onitsha overhead bridge. And we have inspected the location and been granted approval and development has started.
"We have just four centres to address the major open drug market and we have only one centres in each of the states where those operations are predominant because it was only one open drug market that have been identified,'' Mohammed.