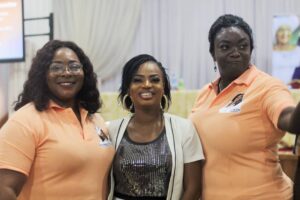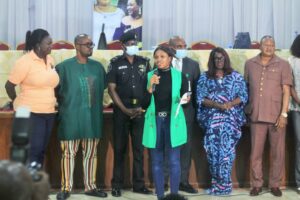 A symposium held in honour of the late actress, Racheal Oniga at the Lagos Chamber of Commerce and Industry, Alausa, Ikeja on August 23, 2021 had in attendance, people from different walks of life which include movie stars, musicians, politicians, business personalities amongst others.
The event, which was organised by the coalition of NGOs and friends, had the children of the deceased; Tunji and Sola Oniga spoke about the glowing attributes of their late mother as an actress who never neglected her motherly role while alive.
The theme of the symposium tagged Legacy of an icon (living a good life), also had speakers like the screen goddess Joke Silva and Kate Henshaw. They spoke about her passion, commitment and love for the industry. They also used the opportunity to advise colleagues on the need to be mindful of their health by eating right and taking cognisance of their health and well being.
Emeka Rollas and Femi Branch touched the areas of humanity, transparency and determination of the late actress and her contribution to the industry. They urged the children to continue to emulate her virtues.
Also, veteran actor Prince Jide Kosoko was full of praises for the deceased whom they had worked together for years in the make believe world, and Charles Inojie added that, Late Oniga's attitude to life is that of sacrifice and belief that the world could be a better place.
The Keynote speaker, Benson Uwheru however emphasised on the importance of leaving a good legacy for all.
Chairperson of the symposium, Chief (Mrs.) Pat Eleto is the CEO of Inclusive Social Welfare and Empowerment Foundation (a foundation where Late Racheal Oniga was a Matron).
Members of the organising committee include Mrs. Pat Oghre-Imobhio, Gloria Young, Ronnie Dikko, Salome Eketunde, Pastor Sam Ayomikun, Oluwakemi Arewa, Tony Akposher, Mrs. Kate Adepheba, Florence Onuma, Chibuzor Ezidiukwu, Tony Ogbeyere, Ejiro Okurame, Temitayo Adenuga and Ms Yvonne Yoma.
Others are Prophetess Wura Williams, the founder of Impact to Inspire, and Folashade Olatunji CEO of Eloquenza.
The Lagos State Police PRO, CSP Adekunle Ajisebutu was also part of those that attended the ceremony.