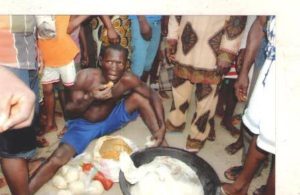 Kaduna Enatimi, a father of two, has been arrested by members of a local vigilante group at Igbogene community in Yenagoa Local Government Area of Bayelsa State for allegedly stealing a pot of soup, wraps of fufu and gari, property of a local food seller.
The suspect, Enatimi, aged 35, according to community sources, was nabbed at 2a.m., yesterday, while consuming the soup and fufu,claiming that hunger and the economic hardship pushed him to commit the crime.
Head of the Igbogene Vigilante Group, Chief Moneysweet Asomo, while confirming the development, said: "We were on patrol at about 2a.m., when we got to the Timida School area and saw a man at a local food joint eating.
"The food kiosk is owned by an Akwa Ibom indigene known as Mrs. Blessing. We questioned the culprit and he confessed to have stolen a pot of soup, some wraps of fufu and half basin of gari. He claimed it was the economic hardship that led him to the act."
It was, however, gathered that the Paramount Ruler of the Area, the Obenibe XI of Epie Kingdom, HRH Hope Green Adike, intervened and asked them to parade him round the community with the stolen items as a deterrent to others and then release him.
The apprehended Enatimi was also made to eat from the stolen item in the presence of the indigenes of Igbogene and then told to go away with the items.
"The shop owner also asked him to go because she claimed she does not have money for police case," Asomo added.