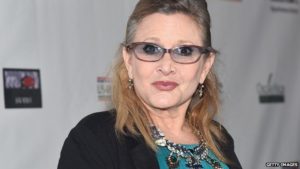 Carrie Fisher, Hollywood star, who is best known for her portrayal of Princess Leia in the wildly popular "Star Wars" films, died Tuesday, days after suffering a heart attack on a transatlantic flight. She was 60.
The actress and best-selling author was returning from the London leg of a book tour on Friday when she collapsed 15 minutes before landing in Los Angeles, where paramedics and hospital staff were unable to revive her.
"It is with a very deep sadness that Billie Lourd confirms that her beloved mother Carrie Fisher passed away at 8:55 this morning," family spokesman Simon Halls said in a statement on behalf of Fisher's daughter.
"She was loved by the world and she will be missed profoundly."
Hopes had been raised for Fisher's recovery after her mother, actress Debbie Reynolds, told her Twitter followers on Sunday her daughter was in stable condition in intensive care.
But celebrity news website TMZ, citing unnamed sources, said Fisher never regained consciousness after collapsing.
Tributes began pouring in soon after news of her death spread on social media, led by "Star Wars" co-star Mark Hamill — Luke Skywalker in the saga who said he was "devastated" and had "no words."
"I'm deeply saddened at the news of Carrie's passing. She was a dear friend, whom I greatly respected and admired. The force is dark today," tweeted Billy Dee Williams, who played space smuggler Lando Calrissian.
Whoopi Goldberg, her co-star in 1991 comedy "Soapdish," described her as "funnier and smarter than anyone had the right to be" while the Hollywood Foreign Press Association, which runs the Golden Globes, tweeted: "May the Force be with you always, Princess Leia."
The American actress had been enjoying a new phase in the spotlight with a tour promoting her latest headline-grabbing memoir and a reprisal of her iconic role in 2015's "Star Wars: The Force Awakens."
Born in Los Angeles in October 1956, Fisher was catapulted to worldwide stardom as rebel warrior Leia in the original "Star Wars" trilogy, which has been a cultural phenomenon since the release of the films from 1977 to 1983.
Asked at a news conference last year what she remembered of her scenes in her barely-there gold bikini in "Return of the Jedi," she recalled having fun killing Leia's jailer, Jabba the Hutt.
"They asked me on the day if I wanted to have a stunt double kill Jabba. No! That's the best time I ever had as an actor," she said.
"And the only reason to go into acting is if you can kill a giant monster."
Steeped in Hollywood excess from an early age, she was the product of the four-year marriage of Reynolds, best known for her role in "Singin' In The Rain," and singer Eddie Fisher.
The relationship, and the happy home in Beverly Hills, came to an end when Fisher left Reynolds for her close friend, the actress Elizabeth Taylor.
The early 1980s were marked by problems with alcohol, drugs and depression for Fisher, who appeared in a number of critical flops, including "Under the Rainbow" (1981) and "Hollywood Vice Squad" (1986).
She was widely praised for her performance in the hit 1989 comedy "When Harry Met Sally," but began to turn her back on acting in favor of writing.
She became known for her searingly honest semi-autobiographical writing, including her best-selling debut "Postcards from the Edge," which she turned into a film of the same name in 1990 starring Meryl Streep and Shirley MacLaine.
A talented screenwriter, Fisher has revised numerous scripts, including "Sister Act" (1992), "Outbreak" (1995) and "The Wedding Singer" (1998).
She has given various interviews over the years about her diagnosis of bipolar disorder and addiction to prescription drugs and cocaine, which she admitted using on the set of "The Empire Strikes Back" (1980).
Asked by Vanity Fair in 2006 how she persuaded "Star Wars" director George Lucas to give her the part of Princess Leia, she said: "I slept with some nerd. I hope it was George."
She "took too many drugs to remember" who it was, she added.
She has also discussed being treated with electroconvulsive therapy, in which small electric currents are passed through the brain, to trigger brief seizures and treat depression.
Fisher told readers of her agony aunt column in the Guardian newspaper in June the addictions, heartbreak and mental illness she had endured amounted to a "fair share of challenging and unhappy experiences."
Her just-released memoir "The Princess Diarist" is based on journals she kept while filming the "Star Wars" trilogy.
It made headlines because of a section in which Fisher admits a three-month affair with co-star Harrison Ford while filming "Star Wars: Episode IV — A New Hope" in 1976.
Fisher and her co-star were 19 and 33 at the time, and Ford, now 74, was married to his first wife, Mary Marquardt.
Fisher was briefly married to singer/songwriter Paul Simon in the 1980s. Her daughter Billie, who is also an actress, comes from her relationship with talent agent Bryan Lourd.