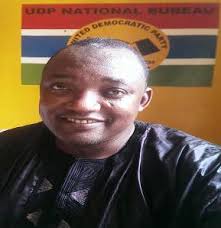 The Gambian president-elect Adama Barrow has been congratulated by President Muhammadu Buhari on his victory in the country's presidential election.
The President also saluted the spirit of statesmanship displayed by the out-going President of the country, Alhaji Yahya Jammeh, by conceding defeat.
In a statement issued by his Special Adviser on Media and Publicity, Mr Femi Adesina, on Saturday in Abuja, Buhari noted that such uncommon gesture was crucial in calming fears of unrest in the West African nation.
While expressing delight at the gallantry shown by Jammeh, President Buhari enjoined President-elect Barrow to be magnanimous in victory.
He also commended Gambians for peacefully exercising their democratic right to freely choose their leader and called on all stakeholders to maintain the peace.
According to him, he looks forward to a smooth transition of power and working with the incoming President of The Gambia to deepen existing cordial relations between both countries.
Opposition candidate Adama Barrow, won the Gambian presidential polls with 263,515 votes, the Gambian electoral commission said on Friday.
The commission's chair, Alieu Njie, said he was followed by out-going President Yahya Jammeh with 212,009 votes while Mama Kandeh, the third candidate in the running, came third with 102,969 votes.
Jammeh, who had ruled the country for 22 years, had since accepted defeat.