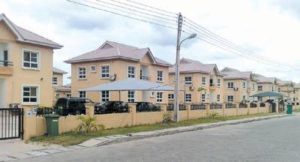 ANTs, Association of Nigerian Tenants, has planned on constructing affordable housing units across the country to address housing deficit.
The president of the association, Mr Edward Olutoke, said in a statement issued in Abuja on Saturday that the initiative was to assist the low income earners.
Olutoke said the association had a duty of empowering Nigerians economically using modern ways of generating credible and stress-free income which they could move into their own houses at ease.
"We simply work with tenant-members and investors to create as many affordable housing projects as possible around any centre with minimum of 500 members.
"We need people of good intention and that is why we created a compensation system that rewards every effort without leaving anyone behind in the pursuit of housing dreams.
"Access to affordable houses would reduce corruption and until we deal with housing problem in Nigeria, we can't successfully fight corruption,'' he said.
He urged the public to support the present administration's policy on housing, stating that the government had good housing policy.
He recalled that the Minister of Power, Works and Housing, Mr Babatunde Fashola, recently reiterated the importance of synergy between the Federal Government and private sector to provide mass housing to Nigerians.
According to him, ANTs has an empowerment programme called, FREEDOM, which is aimed at liberating Nigerians from the difficulties they experienced from unemployment and lack of access to credit facilities.
"If people can earn more, the quality of their lives will increase, they can eat the kind of food they want, live in their own houses, free from burdens of rents and send their children to good schools.
"FREEDOM provides the opportunity for our members to have a steady growing source of income supporting them to enjoy good things of life and live in decent houses,'' he said.
He observed that ANTs would contribute in no small measure in solving the challenge of estimated housing units' deficit in the country estimated to be between 18 million and 20 million.