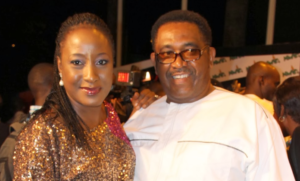 The 15-year-old marriage between 'Wedding Party' actress, Iretiola, and her actor/MC husband, Patrick Doyle, which produced six children, is said to be on the brink of collapse and hopes of reviving the strained union has dimmed further as the former has dropped her wedding band.
The actress was spotted on the red carpet at the EbonyLife@4 celebration which also launched the TV series of 'Fifty' a movie she starred in over the weekend.
It was her first public outing since penultimate week when news of their separation first surfaced online. But, the estranged couple is yet to issue any statement on the matter.
Sources close to the couple say they no longer live together.
The Tinsel star, Iretiola, has since moved into a new apartment in Anthony Village area of Lagos, living far away from her veteran broadcaster and actor husband and children.
While the reason for their break-up is still unclear, a source said Patrick and Ireti ended their relationship after thoughtful consideration and have chosen to remain friends.
Many of their colleagues who worked with the duo while in NTA, expressed surprise at this development.
Although the couple had not been stepping out together, before rumours of the separation spread, not a few could have guessed that the union was troubled.
When asked why they have not been spotted together in recent times, Ireti, said: "We are both busy people and you find that, in any one given weekend, we've both been invited to three or four different events where all three or four people are expecting to see us so we play it smart, we share it; if you've seen one you've seen the other."
The actors got married shortly after Patrick's first wife passed on.
They share six children but lost one to a sickle cell in 1999.
Ireti had her first child, a daughter named Abimbola Ozofor back in her late teens.