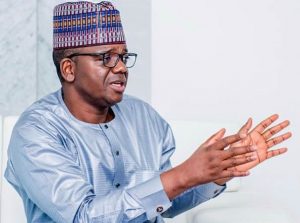 Zamfara State Governor, Bello Matawalle, has given cash gift to patients at Yariman Bakura Specialist Hospital, Gusau in Zamfara State, when he visited the hospital. He gave N20,000 each to patients on admission and suffering from different ailments.
Similarly, the governor gave N100,000 to each of the nurses, doctors and ward attendants, while the hospital security got N200,000 to share among themselves.
The governor, who was specifically at the hospital to see the Emir of Bungudu's mother who was also on admission, sympathised with all the patients where he decided to give them the cash donations and prayed for their quick recovery.
The governor, while promising to do his best in making the state's public hospitals the best in the country, charged the patients to consider their condition as an act of Almighty Allah and a source of self cleansing as well as nearness to the creator.
The governor used the visit to inspect some of the hospital's equipment that were supplied over six years ago but abandoned in their containers by the past administration. He directed that the materials be released for use at the facility.
The hospital equipment include electrically controlled beds and chairs, mattresses and other basic tools.