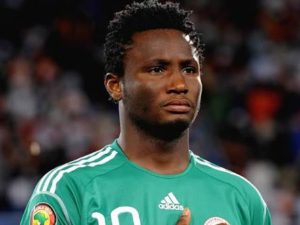 After leading the Eagles to stun the Chipolopolo 2-1 in the World Cup qualifier at the Levy Mwanawasa Stadium, it took the intervention of security men to rescue Super Eagles captain, Mikel Obi from the clutches of Zambian girls who wanted autographs and selfies from the handsome Chelsea player.
The bevy of beauties laid siege for the Nigerian captain as he made his way to the post match conference. He obliged some but they screamed and shouted for more. The police had hectic time separating them.
Moments after the conference, the girls defied the police and swarmed on the Nigerian captain, some crying. Interestingly, the Police who were meant to protect Mikel also added to the problem as they too held him back to snap pictures with him.
A Nigerian official had to explain to the police that the Nigerian team were leaving straight to the Ndola Airport which closes by 5 p.m. As he zig-zagged through the crowd, shouts of Mikel rented the air.