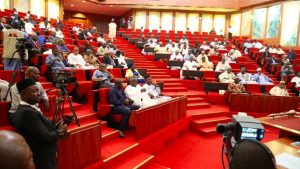 Senate has commenced moves to establish state and community police that would be saddled with the responsibility of maintaining public security, preservation of public order and security of persons and property.
To begin the process, a Bill for the alteration of the 1999 Constitution for the creation of state police was read the first time in the Senate, as there are moves for it to be given accelerated consideration for second reading and subsequently, public hearing.
The Bill, entitled "Constitution of the Federal Republic of Nigeria (Alteration) Bill, 2018,  is sponsored by Deputy Senate President, Senator Ike Ekweremadu, co-sponsored by 49 other senators. This bill seeks to alter the provisions of the Constitution to establish state and community police; change the names of Nigeria Police Force to Federal Police Service; Nigerian Police Service Commission to National Police Service Commission; Nigerian Police Council to National Police Coun; and other related matters.
It would be recalled that while debating a motion sponsored by Senator Jonah Jang last week, lawmakers described the current centralization of policing in Nigeria as a colossal failure and stressed the urgent need to amend the constitution to allow for state and community police.
Speaking after the Bill passed first reading, yesterday, Ekweremadu, who presided over the session, said: "The Committee on Review of the 1999 Constitution has fulfilled its mandate. And now the Bill has been taken for the first time. ''I am sure that as soon as possible, we will take the second reading and probably send it to public hearing through the committee so that we fast-track it as directed by the Senate."
According to the bill document, state police will be headed by a commissioner who shall be appointed by the governor of a state on the advice of the National Police Service Commission, subject to confirmation of such appointment by the House of Assembly of the state. If the Bill is passed, there shall also be the creation of the National Police Service Commission, which shall be responsible for the appointment of persons to offices (other than office of the Inspector-General of Police) in the Federal Police; exercising disciplinary control over members of the federal police; recommending to the governor of a state the appointment of the commissioner of police, deputy commissioners of police and assistant commissioners of police of the state police, based on a list submitted to it by the State Police Service Commission of the relevant state and subject to confirmation by the House of Assembly of the State".