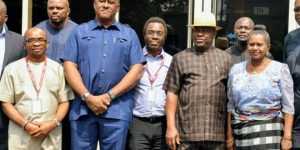 The International Polo Tournament is to be hosted in Rivers state by 2018. Rivers State Governor, Nyesom Wike, has said it will promote the state's economy.
Speaking during a Courtesy Visit by the Port Harcourt Polo Club at the Government House Port Harcourt on Wednesday, Governor Wike said the influx of international polo stars from different parts of the world would be beneficial to business interests in the state.
He lauded the Port Harcourt Polo Club for attracting an international tournament to the state, noting that the State Government will support the event.
Governor Wike directed the Sports and Tourism Minitries to work with the Port Harcourt Polo Club to organise a tournament that all Nigerians will be proud of.
He said: "We will support the hosting of the International Polo Tournament. We will partner with the organisers  to place Port Harcourt on the International map once again.
"Outsiders are coming to host international tournaments and seminars in Rivers State because the state is peaceful. It is interesting that the entire world is world is coming to Port Harcourt to play Polo".
He urged the Port Harcourt Polo Club to be apolitical, saying that they should concentrate on sports and economic development.
Earlier, President of the Port Harcourt Polo Club, Mr Iyene Amapakabo said the world class Polo Tournament would attract players from United Kingdom, Argentina , Asia and South Africa .
He solicited the support of the Rivers State Government, saying the tournament will attract economic and social benefits to the state.
While commending the Rivers State Governor for executing meaningful projects in the state, he assured that the Port Harcourt Polo Club will remain supportive of the administration.