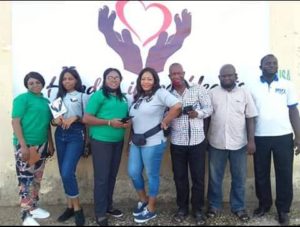 Despite the ease of lockdown in most states within Nigeria, a non governmental organization, Hands Lifting Hearts, an initiative of the Canada based Nigerian, Clare Bisi Jaguna has continued to provide succor for thousands of less privileged people in Nigeria.
She recently distributed foods, face masks and hand sanitizers to the people of Kabusa community in Abuja.

The Ahmadu Bello University, and University of Ilorin graduate has also adopted a young lady(a rape victim)and her sister from the Eastern part of Nigeria.
In a chat, Mrs. Jagunna said, Hands Lifting Hearts has been in existence for a long time, and that is why we have continued to give our needed support, so it is beyond the Covid-19 challenge.
"Before the Covid-19 era, people have been living in poverty, and lacking basic needs, and this was the reason the initiative was founded, so we will continue to do our bits, even after this challenging period.
"We intensified our efforts to reach out to more people because of the situation within this period of our lives, but the clothes distribution, financial and educational support schemes will continue.

The amiable lady who also trained at University of Lethbridge, Canada said the journey has not been a smooth one because, it's a self-help project with the support of few kind hearted people, but believe that well meaning Nigerians and government at different levels, can also support the initiative to enable her reach out to more people.