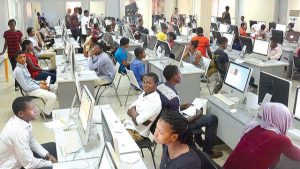 The Post- Unified Tertiary Matriculation Examination (Post-UTME) conducted by universities, polytechnics and colleges of education in Nigeria has been declared illegal by a Federal High Court in Abuja, saying there was no extant law authorising the exercise.
The court held that only the Joint Admissions and Matriculations Board (JAMB) could conduct matriculation examinations and give admissions into tertiary institutions by virtue of section 5 (1) (2) of the JAMB Act.
In the judgment, delivered in the suit filed by the Legal Defence and Assistance Project (LEDAP) against JAMB, the Minister of Education and the National Universities Commission (NUC), Justice John Tsoho held that the defendants have no power to allow or direct tertiary institutions to conduct further screening of candidates after they had taken the UTME.
The court further issued a perpetual injunction restraining all tertiary institutions in the country from conducting the Post-UTME or any other form of admission screening tests.
In opposing the suit, JAMB had argued that LEDAP had no locus standi to bring the action, but the court rejected the objection and held that a registered non-governmental organisation (NGO) or an activist lawyer is allowed by law to pursue in court, the right of the largely ignorant members of the society.
LEDAP had submitted that Section 5 (1) (2) of the JAMB Act provides that the body should conduct matriculation examinations for admissions into all tertiary institutions after the UTME.
Subsection (2) (3) provides: "JAMB shall be responsible for determining matriculation requirements and conducting examinations leading to undergraduate admissions and also for admission to National Diploma and the Nigerian Certificate in Education courses.