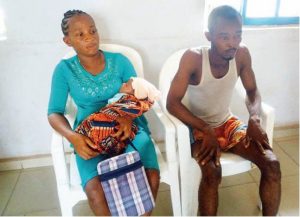 A man and his wife were arrested in Imo State by the Monitoring Unit of the Criminal Investigation and Intelligence Department of the Imo State Police Command after three weeks of investigation. They were arrested for allegedly selling their daughter, Chinecherem, for N400,000, a few hours after delivery.
The couple – Ifeanyi, 35, and Emmaculata Elijah, 30 – are indigenes of Amakpu- Umuba, in the Isiala Ngwa North Local Government Area of Abia State. But they are residents of Irete, in the Owerri West LGA of Imo State.
Other suspects said to have been involved in the crime are Grace Mezu, 55, of Umuoba Uratta, in the Owerri North LGA; Fedalia Ariri, 55, also of Umuoba Uratta; and Amarachi Obiekwe, 49, of Osina, in the Ideato North LGA.
Parading them on Monday at the command headquarters in Owerri, the state capital, the Police Public Relations Officer, Andrew Enwerem, said the couple conspired on January 26, 2018, a few hours after giving birth to the girl and sold her to Obiekwe, through Mezu and Ariri.
Enwerem, who disclosed that the couple had given birth to seven children, said the whereabouts of two were still unknown.
According to him, the woman was delivered of the baby at home, while the waiting buyers paid immediately to take possession of the newborn baby.