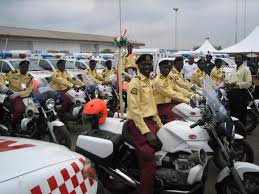 Mr. Adeniji Kazeem, Lagos State Commissioner for Justice, on Monday told men of the Lagos State Traffic Management Authority(LASTMA) and other state law enforcement agencies to stop collecting bribes.
Kazeem spoke at the opening of the annual mandatory training for the state's law enforcement officers at the Law Enforcement Training institute (LETI), in Lagos.
The training had 3, 550 participants drawn from the LASTMA, Vehicle Inspection Service, Kick Against Indiscipline and Neighbourhood Safety Corp Agency.
"I implore you to re-double your efforts, resist bias, stop collecting bribes and see your job as your own contribution to making the state great," Kazeem said.
He urged the participating officers to implement their training lessons, be law abiding and stand for justice.
The state governor, Mr Akinwunmi Ambode, said at the event that his administration would intensify efforts to restore people's confidence and trust in law enforcement officers.
Ambode, who was represented by the Deputy Governor, Dr Idiat Adebule, said the state government would continue to enhance security through capacity building.
He said that law and order was critical as the state continued to evolve as Africa's fastest growing mega city.
"The enforcement of the rule of law is a cardinal objective of our administration, which is why this training is taking place to enhance professionalism.
"We recognise that enforcement ensures law and order to maintain the balance needed in every society.
"This is also why mobile courts were established to bring sanity in to the state, the Neighbourhood Corps was also established to enhance community policing and ensure safety of lives and property.
"Our government will continue to strengthen our enforcement agencies to enforce the law effectively in a mega city like ours as well as provide security for our people," he said.
In his remarks, Mr Adewale Ojora, Chief Executive Officer of LETI, said the institute was established in 2013 to enhance productivity and promote quality service delivery.