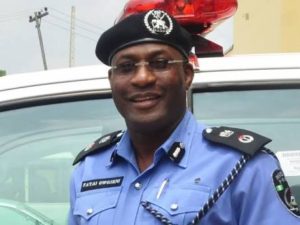 A police station in Nigeria gets N45,000 in three months as running cost. This was made known by the Commissioner of Police, Lagos State, Mr Fatai Owoseni on Thursdays.
Owoseni said this while addressing members of the Human Rights Defenders and Advocacy Centre, a civil society organisation, who protested to his office in Ikeja.
The group urged the Federal Government to probe the embezzlement of funds meant for fuelling of patrol vehicles, stationeries, uniforms and allowance for the Nigerian Police Force.
The group had placards with inscriptions such as 'No More Embezzlement of Police Funds', 'IG is a thief', 'Why are Police Officers buying Uniforms by themselves' and 'Junior Officers dey work, Senior Officers dey chop'.
Addressing the protesters, Owoseni said that the group was protesting on the basis of ignorance as police fund was not embezzled.
He said that government could not be blamed for the low budgetary allocation to the police as there were many other competing sectors to be catered for.
"As civil society organisation, you need to get your facts right and stop making false accusation or fight on the basis of ignorance.
"Nobody is siphoning police fund, the budget is open. By the time you divide what is appropriated to the police force, it will amount to N45,000 to a police station in three months.
"What can N45,000 do to fund an Ikeja police station in three months? And you cannot blame government because there are other competing needs such as education, health, infrastructure and so on.
"It is difficult to fund security anywhere in the country; so, within what is available to the country as revenue, government will have to prioritise and we have been using our resources as best as we can to discharge our duties.
"So, it is a wrong accusation to say that the IG or the commissioners are siphoning police fund. We should be working to orientate the public on how to boost government revenue, so that allocations can come up, " he said.
Owoseni urged members of the public to make use of the 'Smart Police' application to report any police misconduct.
Earlier, Mr Innocent Agbo, Chairman of the group said that they had written several letters to the Inspector General of police to explain to the public why police officers, especially the junior officers, were not properly taken care of, but he never replied.
"From our investigation, we discovered that these police needs are being budgeted for every year, but it is not utilised but siphoned to private pockets.
"This year, about N564 million was budgeted for uniforms and clothing, but out of the 278, 000 personnel, 95 per cent bought their uniforms, boots and other kits. Looking at the policemen, there is no similarity in their attire because it is sourced from different sources.
"All police stations in the country do not get allocation for fueling of patrol vehicles and about N603 million was budgeted for fuel and lubricants. Complainants are made to pay for all these. Travel allowances are not paid and vehicles are being maintained by officers.
"This has led to serious misconduct by policemen who resorted to extorting the general public in order to fund their needs and operations.
"We are here so that the CP can take our demands to the appropriate authorities. We also call on the Federal Government to increase police allocation, so as to eradicate corruption, " Agbo said.