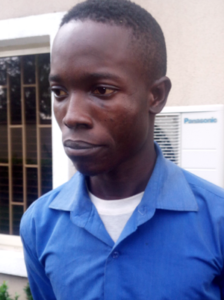 Enilolobo Olamilekan, a teacher at Abogunloko area of Ikotun in Lagos State, has been arrested for allegedly sexually assaulting one of his students.
Olamilekan, who hails from Lagos State, admitted to have lured the girl to his parent's apartment at 17 Ayodele Shitta Street, where he took advantage of the 12-year-old Junior Secondary School 2 student.
Parading the suspect before journalists at her Oduduwa office, Ikeja yesterday, Lagos State Police image maker, Dolapo Badmus, explained that the suspect was apprehended by the school's management after her mother lodged a complaint.
However, Olamilekan explained that he did not have carnal knowledge of the girl. Rather, he said he only put his manhood into her mouth.
According to him, "I teach them Business Studies, while I take some of the students on extra lesson after school hours. Her mother requested for a private lesson for her daughter and I told the mother to get her writing materials last Tuesday.
"But on Wednesday, she did not do her home work and when I asked why, she said that her mother had not bought her the books. She also said that she was hungry.
"After giving them the assignment for the day, I went to a shop to buy some things and she followed me. I bought her some books, biscuits and also gave her N50. But the owner of the shop said I should return the empty bottles of soft drinks I earlier bought. She told the girl to follow me to collect them. But when she got home, I brought out my manhood and put it inside her mouth.
"But when I saw my younger brother, through the window, returning from school, I removed it."
The bubble burst after the girl's curious mother got wind of what happened and subsequently reported the case at the Ikotun Police Division.
The suspect, according to Badmus, will be charged for indecent assault, admonishing parents to be wary of those they leave their children with, particularly the girls.