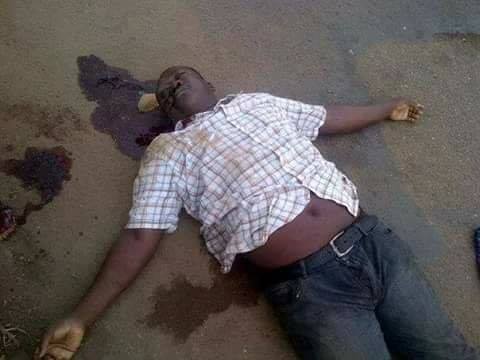 It was indeed a pathetic story for one of the residents of Agege, a suburb of Lagos as he lost is life in an unusual circumstance.
Sources said, the late young man named Eyitayo Peters was a member of the Odua Peoples' Congress (OPC). He was said to have gone to attend a Community Development Committee(CDC) meeting on the instance of a Lagos House of Assembly member, Hon. Ogundimu. The meeting venue, is a stone throw to the hotel of Raheem Owokoniran, a House of Representatives candidate of the Peoples' Democratic Party (PDP).
Residents say, there was clash between members of the All Peoples' Congress (APC) and the PDP over the destruction of a large sized banner of Owokoniran which was destroyed.
And seeing that the fight was escalating, community members were said to have informed the police and they stormed the venue.
However, unconfirmed stories by residents were that, the Late Eyitayo Peters and his group left the meeting being supporters of the APC, to the venue of the clash after being called by other supporters.
There were allegations that, on sighting the police, some members started throwing bottles and sticks at the policemen who had been shooting into the air to douse tension, but when the police found out that they were also being attacked, one of the officers shot straight and unfortunately, it his Eyitayo in the head and he died instantly.
Another of his group member was said to have also been hit, but survived at a hospital where he was rushed to.
The animosity between the supporters of the two political parties have since become so intense, and they have begun trading blames over the death of Eyitayo Peters.
A dark and well built young man in his prime; he is survived by two wives and four children.
His first wife lives at his family house at Gbadamosi Street, in Agege while the other at Yisa Street, another distance to the area where he was shot.
A sizeable obituary of the late young man was placed around Shiaba/Yisa junction of Agege, and many people including politicians and OPC members have been storming his house to pay condolence visit to his family.