R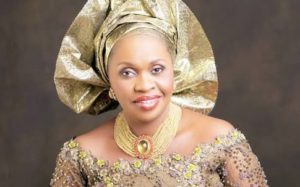 Respected and highly successful businesswoman, Hajia Bola Shagaya is very angry, and its because of a news story published in a national newspaper that her account in one of the Nigerian banks has been frozen by the Economic and Financial Crimes Commission(EFCC) for having about N500m of which was alleged to be a proceed of corruption. The highly connected woman of substance believes the source of the story might be connected to some of her enemies who are so jealous of her success.
Findings revealed that the claim by the newspaper that her account in Unity Bank with balance of N500,000,000 has been frozen, is untrue.
According to her "The report is false, no agency has frozen my account. My lawyers will get in touch with Punch Newspaper today. This is not fair at all. I have not done any dirty deals with anybody in all of my 32 years in business".
But what crime could Shagaya have committed that would make her the target of such criminality? Perhaps it's due to her uprightness that she became the victim of the attack.
By the time the dust settles on their web of lies, Shagaya's hard earned reputation will remain intact, to their consternation perhaps.
To her staff, family, friends, beneficiaries and other loved ones, her smiles have been their anchor, her shoulders their rampart of comfort. The towering grace of billionaire businesswoman, Hajia Shagaya glitters far beyond the sparkle of polished diamonds.
She is the darling of her peers, and even the younger generation love to be around her.
They consider her a friend, benefactor, confidant and mentor to mention but a few. But even at that, she is hardly given to fickle idolatry, unlike most of the women she shares the right to acclaim and celebrity status with.
Hajia Bola Shagaya (MON) was born on the 10th of October, 1959. She hails from Ilorin, Kwara State but resides and conducts her business principally in Lagos.
She had her secondary school education at Queens school, Ilorin, and her tertiary education at Ahmadu Bello University, Zaria and Armstrong college in California, where she studied Economics and Accountancy. She has also attended a number of local and international seminars and workshops, including Harvard business school, United States.