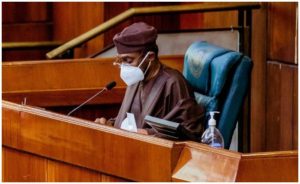 Femi Gbajabiamila, Speaker of the House of Representatives, has asked members to stay away from chamber if they have had close contact with COVID-19 patients or suspected cases.
Gbajabiamila issued the warning at the close of plenary on Tuesday.
He pleaded with the lawmakers not sure of their health status to go into self-isolation for 14 days.
He said, "Honourable colleagues, I have a special announcement. Please, it is an appeal to the leadership and all members, including myself, deputy speaker, leaders, whips, all members. If there's anybody that has in any way, shape or form, however remotely, being in contact or close proximity to anyone who has been tested or is suspected to be positive – because we are hearing news of state Assembly members – should please – it doesn't mean anything – stay away from the chamber for the good of everybody.
"There is no need to come to the chamber. Take care of yourself. Please, 14 days is not a long time. This is a special appeal to every one of us, starting from here (speakership) all the way down."
The Deputy Speaker, Ahmed Wase, said the warning was due to the incident in the Nasarawa State House of Assembly, where a member contracted the disease and died.
Wase said, "If you watch what happened in Nasarawa (Assembly), they lost a member and because the burial ceremony was done before the test was out, there was a lot of mingling. It is not in our interest and that is where a warning like this is coming from. One of our colleagues brought a patient into town, who has now been confirmed to be positive. We have to be guided. We should not shy away.
"He (the lawmaker concerned) is not here. That is why, mildly, the Speaker is giving this information. We need to protect ourselves, our families and the general public."
Meanwhile, the House on Tuesday postponed third reading and passage of the controversial Quarantine Act (Repeal and Enactment) Bill 2020 popularly referred to as NCDC Bill. But the lawmakers kept mum on the lawsuit filed by a former member of the Senate, Dino Melaye, challenging the proposed law.
Gbajabiamila disagreed with those saying that it was not the appropriate time to introduce such a bill.
Many Nigerians criticised the bill, raising concerns over some of its proposals, saying some would cause infringement on fundamental rights.
Gbajabiamila said, "Since then there has been a barrage of criticisms and accusations, including allegations that the proposed bill is a product of inducement by foreign interests. The bill, which is still a proposal subject to consideration, amendment and improvement, has been assailed as a sinister attempt to turn Nigerians into guinea pigs for medical research while taking away their fundamental human rights.