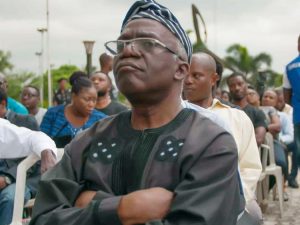 Mr. Femi Falana, a human rights lawyer, has alleged that some unscrupulous public officers had criminally diverted over $4 billion recovered from the late head of state, General Sani Abacha between 1999 and now.
Falana, also alleged that the administration of President Muhammadu Buhari has treated the court orders secured for the publication of all the recovered loots of the late military ruler with disdain.
He made the allegations in the keynote address he delivered at the 18th anti-corruption situation room held in Abuja with focus to review the efforts of the state and non-state actors in the fight against corruption in Nigeria in 2019.
The Human Rights and Environmental Development Agenda set up the situation room with Premium Times Centre for Investigative Journalism, National Orientation Agency, Technical Unit on Governance & Anti-Corruption Reforms and African Centre for Media and Information Literacy.
At the session, Falana expressed concern that the administration of US President Donald Trump, which warehoused part of the Abacha loot, had arrogantly set conditions for the repatriation of $308 million that the federal government negotiated with the US and Jersey Island in the United Kingdom.
He lamented that after signing the tripartite agreement for the release of the stolen fund, the representative of the US Government threatened that the fund would be recovered if officials of the federal government re-looted.
The rights activist added that there was no protest from the Minister of Justice and Attorney General of the Federation, Mr. Abubakar Malami (SAN), who signed the agreement on behalf of the federal government.
He, however, observed that the federal government could not have protested because some unscrupulous public officers had criminally diverted over $4 billion recovered from the Abacha.
He said: "In fact, the order of the federal high court secured by SERAP for the publication of all looted wealth since 1999 has been treated with disdain by the Buhari administration.
"Apart from inviting Nigerians to participate in the fight against corruption the Buhari administration has partially fought corruption on the basis of the above listed priorities.
"Having realised that it cannot fight and win the fight against corruption alone, the Buhari administration has rightly decided to educate, mobilise and encourage Nigerians at the grassroots level to take ownership of the fight against corruption," he said.
Falana lamented that the courts had dismissed some serious corruption cases because the Federal Executive Council (FEC) illegally awarded contracts.
The rights activities, therefore, urged president Buhari upon to constitute the National Council on Public Procurement in line with the provisions of the Public Procurement Act to avoid the loss of more corruption cases.