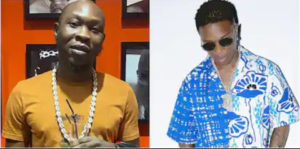 Late Fela Anikulapo's Afro beat musician son, and activist, Seun Kuti, has again stirred controversy with his Instagram video post on Tuesday, when he indirectly asked Wizkid to stop parading himself as a Grammy nominee.
He claimed that himself, Femi Kuti, Burna Boy, and King Sunny Ade, were the only Nigerian musicians to be nominated by the Grammy.
"There are only four artists in Nigeria (to have ever been) nominated for the Grammy, and I am one of them" he added, directly under the video post.
He said that, since Wizkid was featured in a song that won a Grammy award, he had no right to claim to have won a Grammy for Nigeria, as the song belonged to Beyonce.
However, Wizkid is yet to reply or comment on Seun Kuti's Instagram video, but his fans have started to throw jibes, saying Wizkid is self-made, while Seun Kuti operates under his father's shadow.