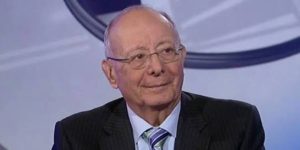 Senator Alfonse D'Amato was sent off a JetBlue plane in Florida after he urged passengers not to tolerate a seat-change request, the airline said.
The 79-year-old stood in the aisle of the plane during a long delay in its departure Monday from Fort Lauderdale-Hollywood International Airport, shouting, "We can still speak in this country and what they're doing to me … I make an appeal to all you people.
You want to know why? Stand up for what's right and walk out with me!" before being escorted from the plane by law enforcement officials.
D'Amato, Republican senator from New York from 1981-99, objected to a request from the pilot that several passengers move from the front of the plane to the rear to maximize weight distribution.
The plane, which was scheduled to depart Florida at 1:40 p.m. but did not take off until 8 p.m., was headed to New York.
One passenger was persuaded by D'Amato's speech to leave the plane.
A video of the incident, shot by another passenger, shows D'Amato calling the plane's pilot a "poor excuse" for a leader, and cursing at a flight attendant as he left the plane.
A spokesman for D'Amato, Gary Lewi, said D'Amato was frustrated by the departure delay and suffered from "sleep deprivation."
"JetBlue has apologized to the senator for overreacting, and the senator apologized for speaking his mind at a time when he clearly had left his patience at the gate," Lewi said in a statement.