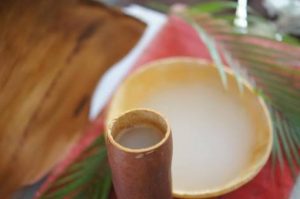 Three people have been confirmed dead after consuming palm wine reportedly mixed with strange substances in Ikare-Akoko, the headquarters of Akoko North East Local Council of Ondo State.
The deceased drank the concoction made with palm wine in the house of a friend identified as Azeez, who allegedly prepared the drink for his birthday celebration.
A source said the palm wine allegedly contained some substances called gegemu and maladol, hard drugs meant to intoxicate everyone present at the event.
It was learnt that aside the deceased, some of the guests who took the palm wine at the birthday ceremony reportedly landed in hospitals as a result of stomach pain.
Consequently, two of the victims died that Sunday when the birthday was celebrated at Ilepa Quarters of the ancient town, while the third person died on Tuesday.
The state Police Public Relations Officer (PPRO), Mr. Femi Joseph, however, identified one of the victims as Kazeem Ogungbemi.
"We can confirm the incident. The boys went for a party organised by one of their friends. But they drank recklessly. We discovered that the drink was mixed with many substances," he said.
Joseph revealed that "The person, who served the palm wine, has run away and we are still looking for him," assuring that the police had commenced thorough investigation on the matter.