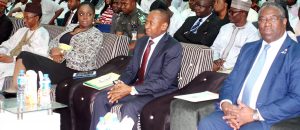 The Honourable Minister of Finance, Mrs Kemi Adeosun has called on tax evaders or those who have not declared their income or pay taxes accordingly to take advantage of the  Voluntary Assets and Income Declaration Scheme (VAIDS) or face prosecution at its expiration on 31st March, 2018.
She stated this during the Stakeholder Interactive Session on VAIDS which held on Thursday at the Murtala Muhammed Square in Kaduna State.
The one-day Stakeholder interactive session had in attendance business leaders, traditional rulers, captains of industry, state government officials and professional tax advisors and administrators.
Mrs Adeosun who reiterated government's commitment to improving on her income generation for improved service delivery to the good people of Nigeria, however said citizens must play their part of effecting accurate tax payments for owned properties.
She lamented that from available data, only low income earners and mostly civil servants whose taxes are deducted at source comply while large business tycoons who earn more evade taxes.
"Currently, we have just 14 million tax payers out of 70 million who are economically active. So, many people who should be paying are not paying anything. It is the development of taxes that will help the States and the Federal Government to achieve their true potentials"
"The government is not stigmatizing or accusing anybody but will not tolerate it any further, hence Nigerians are encouraged to take advantage of the window now or evaders should be ready to face prosecution at the expiration of the window by the end of this month" she stressed.
Mrs Adeosun recalled that VAIDS was launched on 29th June, 2017, by the then Acting President, Prof. Yemi Osinbajo, to help many Nigerians whose tax status are not up-to-date, doubtful or lagging, to regularise their tax status.
The scheme, she said, is reflective of the Federal Government's desire to bring many more eligible tax payers into the tax net and encourage with incentives of confidentiality as well as waiver of the interests and penalties, those who had knowingly or otherwise under-declared or never declared previously earned incomes and acquired assets.
"The scheme also offers tax defaulters the option of spreading payment of outstanding liabilities over a maximum period of three years as may be agreed with the relevant tax authority.
"For tax evaders that fail to key into the VAIDS window by 31st March, 2018, they will be liable for interest on overdue tax balances, forfeiture of assets as well as imprisonment of up to five years" she stated.
Earlier, the Executive Chairman Federal Inland Revenue Services (FIRS), Mr. Tunde Fowler and the Accountant General of the Federation, Alhaji  Ahmad Idris, in their separate speeches, said the concept of VAIDS is to rekindle the very essence of collection of taxes to aid socio-economic development.
They both posited that expected development cannot come from nothing but through the commitment of resources which mostly must come through tax payments by citizens.
This is just as the FIRS boss appealed to the consciousness of Nigerians to be mindful of moral responsibility by giving what is due to government by way of tax payments which will be judiciously utilized to provide dividends of democracy.
Kaduna state Governor, Malam Nasir el-Rufai on his part promised to provide all relevant information on all property owners in the state to all the tax authorities in the country through the Kaduna Geographical Information Service (KADGIS).
He said it is unjust and unfair that big men are mostly the ones evading taxes in Nigeria, stressing that at whatever cost, he will collaborate with relevant tax authorities to ensure that such people who fail to take advantage of the window provided by VAIDS are brought to book.