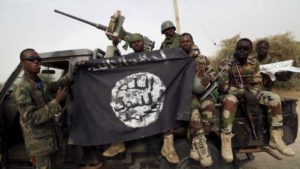 38 individuals and 15 entities have been named by the UAE cabinet, on Monday, as backers of the Boko Haram sect and other terrorist cause.
Nigerians on the UAE's terrorism list include Abdurrahaman Ado Musa, Salihu Yusuf Adamu, Bashir Ali Yusuf, Muhammed Ibrahim Isa, Ibrahim Ali Alhassan and Surajo Abubakar Muhammad. The six persons have been previously tried and sentenced in the Western Asia country.
A South West political group, Yoruba Ronu Leadership Forum (YRLP),called on President Muhammadu Buhari to probe the development and prosecute those found culpable.
In a statement yesterday in Ibadan, president of the forum, Akin Malaolu, said many questions had come begging for answers following the disclosure.
He challenged the Nigerian leader to muster the political will in effecting the much-needed arrests and prosecutions to show his avowed disdain for criminality
Other nationals in the blacklist are Ahmed Mohammed Abdulla Mohammed Alshaiba Alnuaimi (UAE), Mohamed Saqer Yousif Saqer Al Zaabi (UAE), Hamad Mohammed Rahmah Humaid Alshamsi (UAE), Saeed Naser Saeed Naser Alteneiji (UAE), Hassan Hussain Tabaja (Lebanon), Adham Hussain Tabaja (Lebanon), Mohammed Ahmed Musaed Saeed (Yemen), Hayder Habeeb Ali (Iraq), Basim Yousuf Hussein Alshaghanbi (Iraq) and Sharif Ahmed Sharif Ba Alawi (Yemen).
Others included Manoj Sabharwal Om Prakash (India), Rashed Saleh Saleh Al Jarmouzi (Yemen), Naif Nasser Saleh Aljarmouzi (Yemen), Zubiullah Abdul Qahir Durani (Afghanistan), Suliman Saleh Salem Aboulan (Yemen), Adel Ahmed Salem Obaid Ali Badrah (Yemen), Ali Nasser Alaseeri (Saudi Arabia), Fadhl Saleh Salem Altayabi (Yemen), Ashur Omar Ashur Obaidoon (Yemen), Hazem Mohsen Farhan + Hazem Mohsen Al Farhan (Syria) and Mehdi Azizollah Kiasati (Iran).
The rest are Farshad Jafar Hakemzadeh (Iran), Seyyed Reza Mohmmad Ghasemi (Iran), Mohsen Hassan Kargarhodjat Abadi (Iran), Ibrahim Mahmood Ahmed Mohammed (Iran), Osama Housen Dughaem (Syria), Alaa Khanfurah-Alaa Abdulrazzaq Ali Khanfurah-Alaa Alkhanfurah (Syria), Fadi Said Kamar (Great Britain), Walid Kamel Awad (Saint Kitts and Nevis), Khaled Walid Awad (Saint Kitts and Nevis), Imad Khallak Kantakdzhi (Russia) and Mouhammad Ayman Tayseer Rashid Marayat (Jordan).
In April 2019, the Abu Dhabi Federal Court of Appeal sentenced both Surajo Abubakar Muhammad and Saliuh Yusuf Adamu to life imprisonment, followed by deportation.
Ibrahim Ali Alhassan, AbdurRahman Ado Musa, Bashir Ali Yusuf and Muhammad Ibrahim Isa were each sentenced to 10 years in prison, and also followed by expatriation.
The court found them guilty of setting up a Boko Haram cell in the UAE to raise funds and material assistance for the insurgents in Nigeria.
In December 2019, a UAE Federal Supreme Court also turned down an appeal by the six Nigerians, upholding the ruling of the appeal court.
The Nigerians were said to have transferred up to $800,000 in favour of Boko Haram between 2015 and 2016.