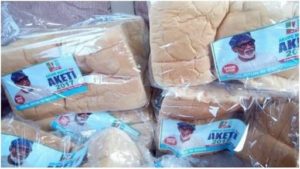 Over 400 pieces of customized bread have been distributed to the people in the Akure Ward 1 in Akure North council area of Ondo State by loyalists of the All Progressives Congress APC governorship candidate, Rotimi Akeredolu SAN.
Eyitayo Campaign Organisation in Ondo state yesterday had asked members of the public to shun the distribution of bread by persons loyal to the APC governorship candidate, Rotimi Akeredolu SAN.
A staunch supporter of Akeredolu in the state Dele Ologun had been distributing  bread to members of the party in Akure Ward 1 in Akure North council area of the state.
Ologun gesture had attracted condemnation across the state.
Reacting  yesterday, the Eyitayo campaign Organisation asked residents of the state to shun the bread.
A statement issued in Akure by the Eyitayo Jegede Campaign Organisation and signed by Mr. Kayode Fasua, the organisation said the bread is not good for consumption as it contained "potassium bromide  which causes instant stomach rumbling."
"Our attention has been drawn to the circulation of loaves of bread by agents of the APC governorship candidate, Mr. Rotimi Akeredolu (SAN).
"Though there is nothing bad in distributing bread more so that under the APC national administration, life has become unbearable for the common people, our major concern now is that the loaves of bread being distributed are killer loaves; they are contaminated.
"Microbiologists have moved in and found that the loaves of bread are poisonous. It was found that they contain potassium bromide, which the National Agency for Food and Drug Administration and Control (NAFDAC) had long alerted Nigerians to avoid."
The Eyitayo Jegede Campaign Organisation of the Peoples Democratic Party as such urged residents of the state to reject "the bread" and instead, advise Akeredolu to state how he is going to create wealth from "a party that has impoverished Nigerians.
"Yes, our people are hungry because of the rudderless policies of the ruling national party; but they should not be made to suffer the double jeopardy of dying from poisoned bread, at a time of serious hunger."
The Jegede campaign organisation added that its principal, Mr. Eyitayo Jegede (SAN) long before now, had drawn a blueprint for the socio-economic development of the state, building on the achievements of successive administrations.