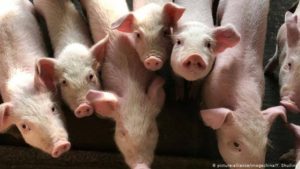 Two independent studies yesterday confirmed the fear of another pandemic that might be deadlier than COVID-19.
The scientists submitted that environmental destruction might make the pandemics more likely less manageable, as a new strain of flu has shown such potential.
The researchers, in the second study published in the journal, Proceedings of the National Academy of Sciences, said the virus emerged recently, and was found in pigs, though could be contracted by humans.
They are disturbed that it could mutate further, giving prospect of transmission from person to person.
While it is not an immediate problem, the scientists said, it had "all the hallmarks" of being highly adapted to infect humans and needs close monitoring.
The investigators said owing to its newness, people could have little or no immunity to the virus.
They said measures to control the disease in pigs, and close monitoring of swine industry workers, should be swiftly implemented.
The second study, by the University of the West of England and the Greenpeace Research Laboratories at the University of Exeter, presented the hypothesis that disease risks are "ultimately interlinked" with biodiversity and natural processes such as the water cycle.
Using a framework designed to analyse and communicate complex relationships between society and the environment, the study concluded that maintaining functional ecosystems and their associated environmental and health benefits was key to preventing the emergence of new pandemics.
The loss of these benefits through ecosystem degradation – including deforestation, land use change and agricultural intensification – further compounds the problem by undermining water and other resources essential for reducing disease transmission and mitigating the impact of emerging infectious diseases.
Lead author, Dr. Mark Everard, of the University of the West of England (UWE Bristol), said: "Ecosystems naturally restrain the transfer of diseases from animals to humans, but this service declines as ecosystems become degraded.
"At the same time, ecosystem degradation undermines water security, limiting availability of adequate water for good hand hygiene, sanitation and disease treatment."