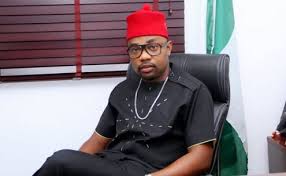 Ikenga Ugochinyere, Special Adviser to the Senate President on Youth Matters, has been arrested by Operatives of Department of State Service (DSS).
The DSS operatives stormed the Abuja office of Ugochinyere to prevent him from leading a protest against the December 10 legislative rerun election in Rivers State.
The DSS operatives were said to have broken into Ugochinyere's office and carted away documents.
The security operatives arrived the office in four unmarked Hilux trucks at around 2am yesterday.
It was said that Ugochinyere, who is also the disputed National President of National Youth Council of Nigeria, was arrested in the process.
A source said the DSS operatives acting on a tip off, stormed the office "to stop a protest rally earlier fixed for Thursday by Lawyers in Defence of Democracy".
The source noted the "operatives came with four Hilux trucks with inscription DSS, SARs."
He said that the operatives who left in the early hours of yesterday " left a stern warning that no body should enter the premises."
There was also heavy presence of security operatives in some designated areas where the lawyers had indicated interest to visit yesterday.
Ohazuruike Tochukwu, a member of the group, claimed that "armed security men suspected to be from DSS in the wee hours of Thursday invaded the office at Suit 29, Shaki Plaza area, 11 Garki and whisked away Barrister Ugochinyere, his driver and Secretary to unknown destination."
Tochukwu added "This is the private law firm of the National President of NYCN. This place was invaded by DSS by 2am this morning, while the National President and some workers were inside this place.
"The security men guiding this place called us that some DSS men were here and they broke the place and took away the National President, his driver and secretary, Oguchukwu.