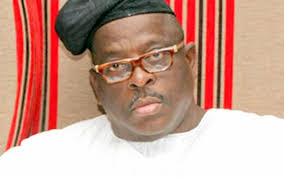 A Primary Health Centre at Obada in Ijebu Igbo in Ijebu North Local Government Area of Ogun State has been demolished by the State Government. The facility was said to be undergoing renovation without approval by the Senator representing Ogun East Senatorial District, Senator Buruji Kashamu, which necessitated its being pulled down by the agents of the state government.
The State Commissioner for Health, Dr. Babatunde Ipaye and the chairman, Ijebu North,Mr. Adebayo Adekoya were said to have witnessed the demolition exercise.
According to the state government which spoke through Adekoya, the lawmaker goofed by not seeking approval from either the state or the local government before embarking on the renovation.
The government alleged that the contractor working on the site, chased out staff and patients from the hospital, in addition to packing the medical equipment inside it to the roadside.
He said, "About two weeks ago, there was a signboard erected around the health centre and it was reported to me and I said, no problem if anyone wants to work on our building he will inform us.
"But to our surprise on Friday, immediately after the closing hours, they started pulling down part of the health centre without notification.
"I thought the letter of approval was on the way but I never saw any notice or letter, only to discover that they had started reconstructing the facility.
"There is no harm in doing a constituency project but the structure in question is under the Obada health centre"
Adekoya, however, denied the claim that the facility was abandoned necessitating its renovation.
In his reaction, the Senator through his Media Adviser, Austin Oniyokor, said; "We received with rude shock the news of the demolition of a Primary Healthcare Centre in Ijebu Igbo, Ijebu North Local Government Area of Ogun State under the direct supervision of the Ogun State Commissioner for Health, Dr. Babatunde Ipaye and the local government chairman, Mr. Bayo Adekoya.