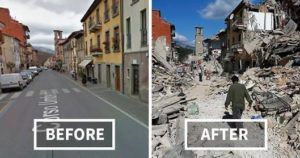 Barely two months after a devastating tremor struck near the village of Visso in the central Marche region, italy, hundreds of people awoke in emergency shelters on Thursday after fleeing their homes following a series of strong quakes in the same region.
After a night of heavy rain, rescuers workers were trying to assess the full extent of the latest disaster in central Italy, which toppled buildings and injured dozens.
A series of aftershocks rattled the area through the night after two quakes with a magnitude of 5.5 and 6.1 struck on Wednesday evening and sent people fleeing their houses in terror.
"Many houses have collapsed. Our town is finished," Marco Rinaldi, mayor of the mountain town of Ussita, told Sky Italy television.
"The second quake was a long, terrible one."
One man was reported to have died of a heart attack, and dozens of people were injured, the authorities said.
The tremors struck an area northeast of the capital Rome near Amatrice, the town flattened by a 6.0-6.2 quake which killed almost 300 people and injured hundreds more in August.
The first 5.5 magnitude quake Wednesday sent people out of their residences, likely saving lives when the second, more destructive, 6.1 magnitude one struck two hours later.
In both cases the epicentre was near the village of Visso in the central Marche region.
"I've felt a lot of earthquakes but that was the strongest I've ever felt. Fortunately everyone had already left their homes after the first quake so I don't think anyone was hurt," Rinaldi said.
Several dozen people were treated for light injuries or shock, civil protection chief Fabrizio Curcio told a news conference, but no serious injuries had been reported.
"Ultimately, the situation is not as catastrophic as might have been expected" given the strength of the tremors, he said.
The quakes were felt in the capital Rome, where residents also ran into the streets. The second was felt as far away as Venice in the far north, and Naples, south of the capital.
Visso is just 70 kilometres (45 miles) from Visso and also not far from L'Aquila where a powerful earthquake killed more than 300 in 2009.
Italian television channels broadcast images of collapsed buildings and people standing dazed in front of their ruined houses.
"It is not very easy to make assessments in the dark and the weather is bad in the whole region. We will have to see more precisely in the light of day," said Curcio.
Across the region, hospitals, a university residence, a retirement home and even a prison had to be evacuated.
"Tonight we're going to go. But tomorrow I don't know. The tents, I can't go there, it's too cold," a resident of Visso said on television.
For people who are unable to return home immediately, civil protection has arranged accommodation in gyms and prepared to reopen some of the tent camps which were set up after the August earthquake.
"I want to thank those working in the rain in the earthquake zones. All of Italy is wrapping its arms around the communities that have been hit once again," Prime Minister Matteo Renzi tweeted.
In Rome, the quakes rattled windows and doors. The imposing foreign ministry headquarters was temporarily evacuated.
A Serie A football match between Pescara and Atalanta was halted for several minutes when the first tremor hit.
The mayor of Serravalle del Chienti, Gabriele Santamarianova, said the quake felt "like bombs were falling".
"We saw a cloud of dust, we don't yet know what has fallen down. We'll see once the sun comes up."
Castel Sant'Angelo's mayor Mauro Falcucci told Sky: "There is no electricity. There are bound to be house collapses. On top of this there are torrential rains."
The little town of some 300 people is near Arquata del Tronto, one of the areas worst hit in the August 24 earthquake.
In Ascoli, another town hit hard in August, the mayor said spooked residents were fleeing by car.
Schools here and around the affected region will not open Thursday to allow officials to carry out safety checks.
Italy's national geophysics institute said the latest quakes were linked to the August one, which was followed by thousands of aftershocks, some of them very strong.
"Aftershocks can last for a long time, sometimes for months," geologist Mario Tozzi said.
Visso's mayor Giuliano Pazzaglini said telephone links in his town had been restored. But television images showed rubble piled outside a local church.
Dozens of aftershocks were recorded, with the strongest measuring 4.6, according to the Italian national geophysics institute.
In their first editions Thursday morning, several Italian newspapers headlined "The unending nightmare".
August's disaster caused an estimated four billion euros ($4.5 billion) of damage, with 1,400 people still living in temporary accommodation.
Around two-thirds of the deaths occurred in Amatrice, a popular tourist destination packed with holiday-makers when the quake struck at the height of the summer season.