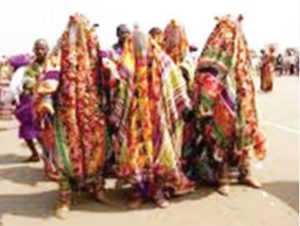 About 25 people have been reported injured as followers of the traditional Egungun religion and some Islamic faithfuls clashed in Kishi town, in the Oke-Ogun area of Oyo State on Wednesday.
The clash came at a time when the traditional ruler of the town, the Iba of Kishi, Oba Moshood Arowoduye, was celebrating his 20th coronation anniversary.
It is, however, not clear if the clash had anything to do with the celebration.
The Commissioner of Police in the state, Abiodun Odude, revealed that he was aware of the clash and that he had sent policemen from the Ogbomoso division to ensure the return of peace to the area.
He said, "I am aware of the clash between Egungun worshippers and Muslims in Kishi. Let me also confirm that no life was lost and no record of injury.
"The clash happened because of a misunderstanding. We are investigating cause of the clash; but as we speak, normalcy has returned to the town."
The fight was said to have began on Tuesday when masqueraders in the town were celebrating their festival. It was learnt that a Muslim cleric, popularly called Alfa Lati, told the worshippers not to pass through a street located in Koso, in the Mapo area of the town, where he lived.
A source said "The Egungun worshippers felt challenged and embarrassed by the order and decided to dare Alfa Lati. They said the street belonged to everyone irrespective of religious affiliation and that no one could stop them from moving freely. They passed through the street, leading to a clash.
"Weapons were used in the clash and many of the Egungun worshippers were injured. They planned a reprisal which they carried out on Wednesday. They were also angered that the masks of the masqueraders were removed which they considered a sacrilege and a bad omen.
"During the second clash, at least 15 people were injured and taken to a hospital in a nearby town for treatment."
It was also gathered that Kishi monarch summoned a security meeting on Wednesday, urging that the Egungun festival be halted until the coronation anniversary ended.