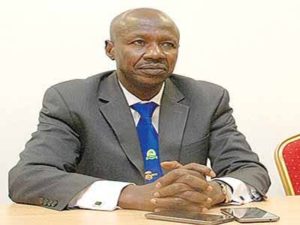 Acting Chairman of the Economic and Financial Crimes Commission, EFCC, Ibrahim Magu's confirmation was yesterday deferred by the Senate till next Thursday.
Though Magu and his team were on ground in full readiness for the exercise at the National Assembly,  the screening was, however, not captured in yesterday's Order Paper.
It would be recalled that President Muhammadu Buhari had forwarded Magu's name to the Senate five months ago for confirmation.
He was appointed in acting capacity by President Buhari on November 9, 2015, following the sack of his predecessor, Ibrahim Lamorde.
Speaking with journalists on why Magu's confirmation was postponed, Deputy Senate Majority leader, Senator Bala Ibn-Na'Allah, explained that   appeals from senators who were currently out of Abuja, led to the deferment.
Senator Na'Allah, who disclosed that the Senate leadership had unanimously agreed to commence the exercise  next Thursday, said a letter had been sent to Magu and other members of the board of EFCC in this regard.
Na'Allah said:  "Let me correct it. In fact it was listed on the Order Paper and removed. The Senate is normally guided by the time frame of the work.
''We agreed that today (yesterday) will be the confirmation hearing of the EFCC acting chairman, Magu, but we received a lot of calls from senators who are away and who believe that they want to participate and that it is unfair for us to fix it when we know they are not around.
"When we look at the demands and the number, we felt it would be wrong for us to proceed. Then we said it should be next Thursday. Again, we became too unsure as to whether  Monday  or  Tuesday  will be declared public holiday by the Federal Government in respect of the impending Eid- Malud holiday.
"We have since written an official letter to the acting chairman giving him that Thursday will be the day for the confirmation hearing of his appointment."
Deputy President of the Senate, Senator Ike Ekweremadu, had at the end of plenary on Wednesday, disclosed that Magu's confirmation hearing would commence yesterday.