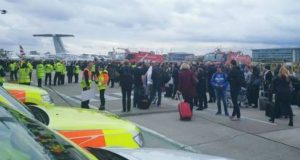 Following a reported "chemical incident" that left 26 travellers feeling unwell, hundreds of passengers and staff were evacuated from London City airport on Friday.
"We are treating 26 patients at the scene for difficulty breathing," the London Ambulance Service said, adding that two of them were taken to hospital.
A "hazardous area response team" was also sent to the airport in east London, which caters mainly for business travellers and short-haul flights.
The London Fire Brigade in a statement said firefighters and police officers had carried out two full sweeps of the airport in protective equipment.
"The building was ventilated, searched and declared safe," it said, adding that "no elevated readings" had been registered during the search.
The airport said on Twitter that it had re-opened although there would be continued disruption to flights, three hours after the incident was first reported and the terminal was shut down.
The Fire Brigade said it had sent three fire engines to the airport following "reports of a chemical incident" but did not say what the cause might be.
"Around 500 members of the public and staff have been evacuated and there are reports of a number of passengers feeling unwell," it said earlier.
Several incoming flights from destinations such as Frankfurt, Amsterdam and Paris were diverted to other airports or cancelled.
London City Airport is the 13th busiest airport in Britain, with a total of 4.3 million passengers last year.