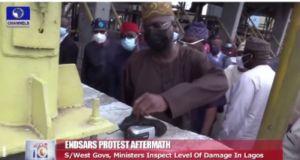 Minister for Works and Housing, Babatunde Fashola is trending at the moment on social media, especially Twitter as many Nigerians have turned his camera discovery story at the Lekki scene of the shooting incident to be a "huge joke."
Critics of Fashola's story argued that, after the October 20th shooting of protesters, the Lagos State Waste Management (LAWMA) staff have gone round to clean up the area, many people have plied the routes, and scavengers that pick up metal materials for sales have all gone round the axis, so after five days, it is the former governor that came from Abuja to discover a 'mysterious' camera that others couldn't find?
Many believed that the politician is being half smart with his stories, while others were throwing jibes at him on social media.
Here are few comments on Fashola's report:
@mike-ajewole:
I can remember, two days after the shooting I watched it on Arises news, aboki picking aluminium were seen picking all left items, and this stupid government are telling us drama now. God will judge them
@Abbey0057:
Imagine the the audacity… you look me like this, with my level of education and exposure and still call me stupid because that is exactly what this is… mr fashola abi na detective fashola, you no try ooo
@alrhemist:
Fashola conveniently finds a Camera at the Toll Gate after LAWMA already cleaned the whole Crime scene.
It's an insult on the intelligence of Naija people. Lol.
@khadydstylist:
This government should LEVEL up nau! stop addressing us like a kid. See how clean the camera is, all the ups and down for lekki that day no touch am at all 🙄🙄
#EndBadGovernanceinNIGERIA
#EndSARS