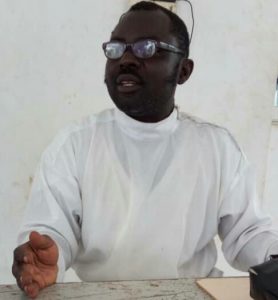 On Saturday June 15, 2019, our reporters went to the Celestial Church of Christ, Majemu Ileri Oluwa Parish, situated at Agbado, an outskirt of Lagos that borders Ogun State.
We had been told of allegations of how congregation members of the 28-year-old church were living in poverty and allegations of how the church's Life Matron, Mother Celestial Abimbola Martins, was quarterly visiting the members to share a tin of rice, and single fish for each member.
"We are living in poverty, and now we have discovered that we must break the shackles of bondage, but we want you reporters to help ask why the church is not progressing, and each time we begin to improve, a group of people who claim to own the church always come and disrupt the progress.
We have had pastors like Asiwaju, Gbenga Falade, Oshin, Oloyede, Baba Olopade. Please, help us ask and let the world know what is happening here" says an aggrieved members.
Top News decided to visit the church, and in the course of this, we spoke to the Shepherd in charge about activities surrounding the church.
Effort to reach the other party on the allegations was still unsuccessful, but here is the interview we had with the outgoing pastor, Asst. Superior Evangelist Peter Ajao…
What was on ground when you came to this Parish and at what year?
When I came here, I was told the church has turned desolate. The people are always fighting themselves and that I am coming to work and rebuild the place.
With such words and having heard a prophecy before now, I decided to set to work, embark on a lot of spiritual consultations before coming, and then I started work here, and to the glory of God, we have done a lot. In January 2017, I came here and met just six members only. We started 7 days vigil, praying and fasting and from there, I went on a house-to-house visitation of aggrieved members that left the church.
What are the challenges?
The committee members were the initial problems; we had members who are stealing tithes and other monies. Although, I didn't know this, but church members called my attention to this.
In fact, I was advised that whatever I want to do, I needed to inform the Mother Celestial, Taiwo Abimbola Martins, who is the Life Matron of the church a.k.a Iya Ijo. I wanted to resist because it is the head quarter that sent me here, but because I wanted peace, I took to the advise to always consult with the Iya Ijo (note that she is not a regular face at the church and hardly visits the parish).
On this note, I told her I cannot work with the committee members and she told me to set up an interim committee.
The Iya Ijo told me she has God daughters and that I should not neglect them, but I discovered that if I continue to allow these people to operate without restrictions, the church will collapse again, so I remove them from the system.
A man named Peter Aladegboye advised that all these Iya Ijo stooges should not be allowed if I want the committees to perform. I now asked him that if we need things (assistance) from Iya Ijo, how will it be possible if I don't carry some of them along? He told me point-blank that unless I remove all of them (including himself) from the church affairs, everything will fail.
Did you take to his advice?
No. If I had taken his advise, maybe things wouldn't have turned out this way because I also allowed him and few others into the committee, infact he is the auditor. I used one Baba Adeogun, another of Iya Ijo's ally as the treasurer. We forged ahead with activities, only to start flimsy complaints and excuses, with the aim of collapsing the church again.
There were allegations by your members that congregation members are suffering and that their destinies are been tampered with, spiritually, by the owner of the church. She comes to share a tin of rice and a single sachet of tomato paste or single fish to each member, quarterly. Is this allegation true?
I think the members are in better position to explain better. I have heard of several things too, but you know most of them are here before me, and they know what's been happening before I came here. We have tried to put things in order when I came. Though I once confronted a suspicious situation.
How?
One day, we had a powerful program at the church; after the service, the church workers swept the floor and someone came and took part of the sand. It was Mama Talabi (Lace superior prophetess Talabi) who saw the culprit that took a portion of the sand. She scolded the person to bring back the footprints (sand) because her children and her husband's are part of the sand gathered.
I had to plead that the matter should be handled quietly so as not to degenerate because people will avoid the church.
Within five minutes of asking and searching for the suspect, the sand has been transferred out of the compound.
As a pastor, I went to consult with other spiritual elders who know more than I do, and was told that such thing like stealing footprints is used spiritually to scatter the church, or in some cases it is used to steal people's destinies, to keep them from prospering.
Did you report the matter?
The matter was reported to the Mother Celestial, but nothing happened after that.
I discovered that after that scenario, Iya Ijo stooges started their gang-up against me, and that was the reason for victimization.
On your part, did you commit any offence, may be embezzlement of funds?
I give glory to God that you are here with my members(pointing to them) I never stole church's money, no allegation of rape, snatching people's wives or any atrocities were made against my person, yet they want to edge me out of the church. In fact, it is the people that are close to the Iya Ijo that were tampering with monies meant for headquarters which include tithes. I didn't discover this early but congregation members drew my attention to this. They are using their closeness to the Iya Ijo to cause problems within the church.
At what point did crisis started between you and the Church's Life Matron ?
This started about a year ago(2018). I think the problem I had with the Iya Ijo was that, before I came here, the church was in abject poverty; people rely on the woman for harvest; she buys cow for them but since I came into this Parish, the congregation have been able to buy for themselves, cows for the two harvests I have witnessed four adults and three children harvests.
How did that become a problem?
Knowing that we are independent of her money or assistance, the woman suddenly changed her attitude.
Last week Sunday, I just got to know that they changed the leadership of the church by bringing someone else to replace me. This is not to be because, I did not bring myself here, but was transferred here by the Celestial Church headquarters, and if I must leave, the headquarter will send letter of my transfer and also appoint a representative to come and do that.
In this case, it was some caucus within the church that decided to remove me, instead of the province/provisional Head.
That Sunday, I took the microphone during service and informed the congregation that we thank God that I have not violated any of the Celestial church rules or done anything wrong. I did this so as to let peace reign.
Just within the week, I went to Imeko and it was from there that I was told that some of Iya Ijo's group wanted to break my door and throw out my belongings from the Shepherd's quarters. It was one Baba, Tunji Bello that has been asking me, that when am I vacating the place.
At Imeko, while with the personal assistant to the Head of the Celestial church worldwide, I asked why they decided to issue letter without proper protocol, but I was told that it was the Iya Ijo that brought the new person to them and that she threatened to arrest and eject me forcefully. And knowing that my wife just put to bed barely three weeks back, they did not want crisis for my family, so they had to allow her have her way because I was not around and the trouble for my wife and the new baby will be too much.
All the Celestial church leaders are aware of all these and I have been advised not to join issues with them because the church itself says it is their matter, and they will handle it on my behalf since I work for the Celestial church.
It was on record that the Iya Ijo when told that I am the son of one of the Celestial church leaders, she called their bluff on phone saying that she built her church structure with her personal money and does not care.
Later, the personal assistant to Iya Ijo called me on phone that they have secured a room and parlour for me opposite the church. I told him how do I move my belongings and he said that's my problem; I had to inform him that it is in the letter of my transfer that the church must bear the cost. To avoid trouble, I called Baba Tunji Bello because he understands the protocols of CCC rather than the P.A who is a muslim, so I refused to reply all the insults hurled on me through the phone.
I asked Mr. Tunji Bello of my offence but he couldn't state any.
Another problem was that my refusal to take my wife to an hospital they suggested. The doctor said my wife must be operated on, which I rejected, and she gave birth without any complications.
I noticed that before my wife's delivery, if I complain of anything, they refer me to the doctor and he does not even talk to me about my health, but straight to Iya Ijo, and he bills them exubitantly.
My wife has delivered two children before now without surgery, so I outrightly rejected the surgery and I prayed and fasted and she gave birth successfully. How can I be praying for congregation and they are getting healed, and I cannot pray for my wife?
She later ordered that I should take my wife and the new baby to the doctor. They certify the baby that she's okay but that my wife had tears. All these are no reason to quarrel.
While at the meeting few days ago, I received a call from the DCO of Ayinla police station at Agbado, inviting me which I went. Mr. Adeogun later came to me and said Mama gave me N20,000 to use to convey my belongings, but I told him that the rules must be adhered to.
What happened at the police station?
I went to the police station, and I must tell you that the DCO of the station was a core professional. He requested to see any of those who came to register their complaints, but none of them came. In fact, Mr. Tunji Bello was called to come to the station to clarify issues but he did not show up for over two hours, and the police had to hands off the case when it was obvious that no one was coming. Even her personal assistant who has been rude in his handling of issues was no where to be found.
So what is your intention now?
By God's grace, I have decided to move on, I will definitely leave, but let be on record that while I was here, we raised over 120 members in two and half years.
I followed all the rules and regulations of the church, and never soiled the church 's name as laid by the Founder, Late SBJ Oschoffa.
Footnote:
Top News reporters however made a call through to Mr. Tunji Bello on Sunday, June 23, 2019 at 7:48am and he said "I have nothing to say" He however referred the reporter to the headquarters.
Also, the personal assistant to Mother Celestial, named Ahmed did not talk nor replied to message sent to his MTN line as regards the church issue.