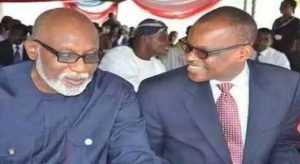 The Peoples Democratic Party, PDP, candidate in the recently concluded Ondo State Governorship election, Mr. Eyitayo Jegede, has opted not to challenge the outcome in court, as is usually the practice in Nigeria.
Jegede, a Senior Advocate of Nigeria, SAN, said that he had accepted the victory of Mr Rotimi Akeredolu of the All Progressives Congress, APC,  in good faith and had moved on in the spirit of good sportsmanship.
Jegede, who polled over 150,380 votes to Akeredolu's 244,842 during the poll, said  there was no need to continue to fight over the matter since the people of Ondo State had decided on who they want to serve them at this time.
He said: "I have taken a decision to move on and I wish Governor Rotimi Akeredolu success.
"I speak for myself. I believe that if I cannot serve the people of Ondo State now, another opportunity will come for me to do so. I have a profession and I am returning to my law practice.
"There is always need to demonstrate true statesmanship and that is what I have done," Jegede said.
It was learnt that Jegede has not filed any petition against Akeredolu's victory as expected in law more than 21 days after the results were declared as a demonstration of his sincerity not to challenge the outcome.
It is not clear if his party, the PDP, will disagree with him and approach the Election Petition Tribunal to seek to upturn the APC's victory.