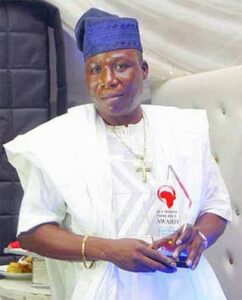 The Department of State Services (DSS), Benin's Republican Police on Monday night reportedly nabbed popular campaigner for Yoruba self-determination, Sunday Adeyemo, also known as Sunday Igboho, three weeks after he was declared wanted by Nigeria's secret police,
Igboho was arrested in neighbouring Cotonou, Benin Republic, while trying to travel to Germany. According to local reports, Beninoise authorities arrested Igboho at Cardinal Bernardin International Airport, Cotonou.
He was "disembarked from his plane, arrested by the Beninoise police while he was trying to travel to Germany and then transferred to the Cotonou Criminal Brigade."
As reactions and fireworks continued to trail the arrest, reports began filtering out that Igboho had been released and was already on a plane to Germany, but lawyer to Igboho, Yomi Aliyu (SAN) last night dismissed the rumour that the Yoruba agitator had been released by authorities of Republic of Benin.
 
Aliyu said: "Sunday is still in Benin and in serious pains. As a matter of fact, he is even crying now. He is not on his way to Germany."
The Federal Government as at last night was yet to react to the development, though senior lawyers and leading Yoruba groups are calling on the government of Benin Republic to prevent Igboho's extradition to Nigeria. Almost 24 hours after news of his arrest broke, the DSS is yet to confirm the authenticity or otherwise of the story.
The intelligence agency is reputed for keeping such level of operation that involves international relations top secret. For instance, the arrest of Nnamdi Kanu, leader of the outlawed Indigenous People of Biafra (IPOB) was made public only 48 hours after he was extradited to Nigeria.
DSS had on July 1 declared Igboho wanted for allegedly stockpiling arms, an allegation he has since denied. His two associates were shot dead in an exchange of gunfire with the security operatives while 12 suspects were arrested during the operation on his residence in Ibadan.
At the press briefing at DSS headquarters, Afunanya had vowed that Igboho would be tracked and even advised him to turn himself in to security operatives.
Infuriated by wanton killings, rape, kidnappings and harassment in the Ibarapa axis of Oyo State, Sunday Adeyemo had on January 16, 2021, issued a seven-day ultimatum to Fulani herdsmen in Igangan, Ibarapa North Local Council of the state to leave the area or face eviction.
He made good his threat when he stormed the community on Friday, January 22, with hundreds of youths, leaving tales of wanton destruction, carnage and arson behind. Since that fateful Friday, the atmosphere in the zone had been tense and charged.
It was gathered that Igboho may be repatriated to Nigeria from Benin Republic today. In his reaction, his legal counsel, Aliyu urged the country to reject any extradition request from Nigeria.
According to him, the extradition treaty of 1984 between the countries excluded political fugitives. He said: "We urge the good government of the Republic of Benin and international community, especially Germany, to rise up and curb the impunity of the Nigerian Government by refusing any application for extradition of our client who already has application before ICC duly acknowledged.
   
"The Extradition Treaty of 1984 between Togo, Nigeria, Ghana and Republic of Benin excluded political fugitives. It also states that where the fugitive will not get justice because of discrimination and/or undue delay in prosecution the host country should not release the fugitive.
   
"Now, Article 20 of African Charter on Human and Peoples Rights to which the four countries are signatories made agitation for self-determination a fundamental right to be protected by all countries. This means Chief Sunday Adeyemo, a political offender, cannot be deported and/or extradited by the good people of the Republic of Benin for any reason."
   
Human rights lawyer, Femi Falana (SAN), expressed optimism that the government of Benin Republic would ensure that their legal system is upheld. He explained that Nigeria and Benin Republic operate under the rule of law and added that he expects that the law would be followed in bringing him back to Nigeria.
"Due process here would mean extradition law of that country. Apart from the arrest, Interpol does not get involved with extradition or deportation of anybody. In this particular instance, there is no evidence that Interpol was involved.
   
"Immigration officers in that country arrested him at the airport. It depends on why he was arrested, but Interpol does not get involved in extradition. If the Federal Government has made a request, it has to go through the due process of their system," he said.
IN his reaction, vocal lawyer and rights activist, Chief Mike Ozekhome (SAN) said the Federal Government "appears supersonically effective and efficacious when it comes to arresting and repatriating dissenters and challengers of its morbid nepotistic and sectionalistic government."
   
According to him, the same government paradoxically appears abysmally weak and hopelessly helpless when it comes to fighting AK-47 wielding armed bandits, Boko Haram and other deadly insurgents, including ransom-taking kidnappers, who are almost kidnapping the very heart and soul of Nigeria on a daily basis.
   
"To me, this lopsided template demonstrates acute intolerance and ambivalence. It shows self-contradiction. It shows an inclination towards enforcing laws against certain people, against certain classes of people, while at the same time turning away the other eye in enforcing laws against the other preferred and pampered set of people.
"Such does not make a nation grow. Such does not make democracy work. Such does not build confidence and inclusiveness, the very reasons for the Igboho and Nnamdi Kanu of this world. Such does not enjoin patriotism and building of nationhood.
"I am not impressed with this at all. The government may thump its chest for temporary gains. But, does this solve the problem? I see this as merely pursuing butterflies, while the house is on fire. Recall history: Major Kaduna Nzeogwu Chukwuma, Isaac Adaka Boro, Ken Saro-Wiwa and the Ogoni five! Are we out of the woods? I do not think so," he recalled.
   
Also reacting, the chairman, Nigeria Bar Association Section on Public Interest and Development Law (NBA-SPIDEL), Dr. Monday Ubani, said whatever the situation, the fundamental rights of Igboho must be upheld and respected. "We are not clear on how the arrest was effected, if it was as a result of undergoing proper petition report and collaborative efforts by other countries.
   
"However, his right should be respected and he should be given all fairness, if it is for bail, he should be granted. Not to keep anyone in detention, who has not been convicted by the court," he advised.