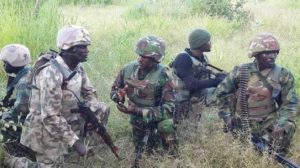 According to a report, the mysterious white man captured by Nigerian soldiers during last week's storming of Boko Haram's headquarters in the Sambisa Forest is a Frenchman.
He worked for Boko Haram as a specialist in repairing and unlocking armoured personnel vehicles and other fighting equipment.
Accodring to reports, the whiteman was arrested along the Bama axis of the Sambisa forest and agreed to give vital information provided he would be spared.
Military source said 'I learnt that he is from France but authorities do not want to make his real identity known for diplomatic reasons…They don't want to jeopardize the success recorded."
Other sources also said the captured white man is "from Western Europe," learnt that he is actually a Frenchman.
The Federal Government and military authorities have refused to disclose the man's full identity for diplomatic reasons, Daily Trust said.
Soldiers who took part in the operation had revealed the arrest last week and that the man was providing "credible information" to military authorities.
The military operation has led to the recovery of Sambisa Forest from the insurgents, and the military high command is said to be worried that some of the things expected to be recovered at Camp Zairo were not found.
"It is likely they (Boko Haram) are somewhere because they moved away with their equipment and prized possessions, including the Chibok girls in possession of Shekau group," an officer said.
Among the missing possessions were also some of the Chibok schoolgirls with the Mamman Nur faction, led by Abu Musab Al-Barnawi, son of the group's late Mohammed Yusuf.
The girls are suspected to be held in cells in northern Borno State.