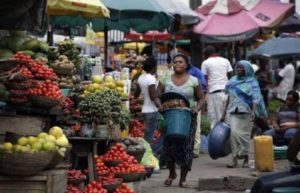 In Ado Ekiti on Tuesday Prices of food stuff were forcefully reduced at markets by a taskforce led by the President of the Market Women's Association, Chief Omowaye Oso.
The team visited the Oja Oba and the Bisi Egbeyemi markets, both in the state capital.
Oso ordered the stoppage of foodstuff sold at exorbitant prices, after which, she personally sold to buyers at lower prices.
Buyers had accused the sellers of deliberately selling at excessive prices on the excuse of the non-appreciation of the American dollar
Some of the commodities forced tosell at reduced prices included garri, beans, local rice and palm oil.
Consequently, a measure of garri, which used to sell for N200 was reduced to N100.
A 20-liter container of palm oil which sold at N22,000 was reduced to N15,000, while a measure of local rice, which initially sold at N500 was reduced to N400.
Oso said she had henceforth ordered that small measure of Okro and locust beans be sold at N20 as against N50.
She said the raid was supported bythe state government and the Ewi of Ado Ekiti, Oba Adeyemo Adejugbe.
"Both the Ewi of Ado Ekiti and the state government are concerned about the exorbitant prices of goods and services in the town.
"The cost of goods, especially foodstuff, is too high in Ado Ekiti, whereas, as the state capital, prices of goods and services should be the cheapest here.
"The market men and women should have mercy on the poor because things are too expensive here, unlike other towns and villages in Ekiti State.
"It is very unfortunate that market women in other communities don't want to sell at their places anymore; they now bring their wares to Ado, believing they will sell at twice the price of what they sell in their communities.
"As the Iyaloja, one of my responsibilities is to ensure price control of goods and today's exercise shall be a continuous one and shall be repeated in all markets in Ado.
"It is unfortunate that 20 liters of palm oil which sells at N14,000 in Ikole is being sold at N22,000 in Ado, but we have sold it at N15,000.
"Ado is now developing a bad reputation for high prices of goods and services, but we will not allow this to continue; the Kabiyesi has said he does not want hardship for the people of Ado.
"We will continue to carry out our raids until our market women comply and anyone who cannot comply, must look elsewhere to sell her wares.
"If you can't sell your palm oil at lower prices, don't bring it down to Ado again," she said.
Buyers at the market and other residents commended the market raid, describing it as a respite to the poor and hungry people.