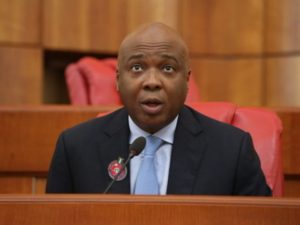 Nigeria Senate President, Bukola Saraki has been declared free from all 18 count charges brought against him by the Federal Government. The Code of Conduct Tribunal Wednesday dismissed all charges saying he has no case to answer over false assets declaration brought against him by the federal government.
The Chairman of the Tribunal, Justice Danladi Umar, on Wednesday, upheld the no-case submission filed by Saraki.
The CCB had on September 16, 2015, filed a 13-count charge against Saraki for alleged false and anticipatory declaration of assets.
The charges were increased to 15 on April 18, 2016, and another charge was added on April 27, 2016, to make it 16. The government later increased the charges to 17 on January 11, 2017, and finally to 18 on February 23, 2017.
Lawyers for Bukola Saraki argued prosecutors had failed to establish a case alleging that he made a false declaration of his assets before and after his tenure as governor of Kwara state.
He was also accused of collecting double salaries during his time as governor of the western state from 2003 to 2011 and as a senator after he stepped down.
The case had been heard at the Code of Conduct Tribunal, which tries cases of alleged abuse in public office.
Saraki challenged the competency of the tribunal to try him, hired a 66-lawyer defence team and turned up at hearings with dozens of senators and other politicians in support.
Judge Danladi Umar said in his ruling that the prosecution "failed to link the defendant with the commission of the offences as charged".
"All the responses of the prosecution witnesses and evidence in this trial have been discredited as a result of cross-examination and have become unreliable," he added.
"In the light of the foregoing, the tribunal has nothing to do other than to discharge and acquit the defendant."
Under Nigerian law, senior politicians including state governors are required to declare their assets when they enter office.
Saraki was charged and brought to the tribunal in February 2016, just over six months after he became leader of Nigeria's upper chamber of parliament.
He was not the preferred candidate for Buhari's ruling All Progressives Congress (APC), which led to claims the charges against him were politically motivated.
Saraki, who is Nigeria's third-most powerful politician behind Buhari and Vice-President Yemi Osinbajo, was last year acquitted in a separate case of conspiracy and forgery.
It was alleged the 54-year-old former banker and his deputy falsified parliamentary rules to get elected.