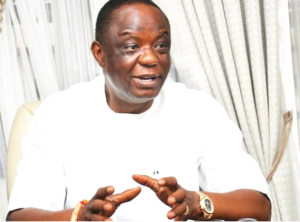 Edo State born billionaire businessman, Captain Hosa Okunbo, has died after a year-long battle with pancreatic cancer.
Okunbo, a professional pilot and philanthropist, died on Saturday night; 12 months after doctors said he had nine months to live.
Late Okunbo, who moved to London a year ago for treatment, is survived by widow, Nosa, and children.
In October last year, there were rumours that he was in a coma and that his illness was due to the outcome of Edo State governorship election.
The business mogul admitted that, he was battling illness, but dismissed the insinuation linking his illness to the result of the just-concluded Edo governorship election.
He however replied his critics late last year after the election, that
"It is evidently ungodly for people to gloat over the fact that I am not feeling well. I have never claimed to be a superhuman. I do not deny the fact that I am not well.
"I am outside the country for my medicals, which were delayed because of the lockdown occasioned by the COVID-19 pandemic.
"After a series of tests, my doctors confirmed that I have some health issues. It is, therefore, ill-advised and inhuman for those who are not comfortable with the position I took in the Edo election to joyfully circulate in the social media that I have health issues and that I have slid into a coma…" he said.
Late Captain Hosa was a successful businessman with interests in agro-allied, petroleum, telecommunications, power, real estate and the banking sectors. He died at age 63.