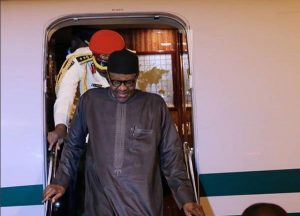 After meeting with his doctors in London, United Kingdom, President Muhammadu Buhari on Friday has returned to Nigeria .
Buhari returned to the country about 24 hours ahead of schedule.
He was earlier scheduled to return on Saturday (today) at the end of what the Presidency described as a four-day medical trip.
He left the country on Tuesday.
There were however fears that the Nigerian leader who was ill for the better part of 2017 might remain in the British capital beyond his scheduled return date.
The President was received at the Presidential Wing of the Nnamdi Azikwe International Airport, Abuja by top government officials that included ministers, presidential aides and security chiefs.
The Senior Special Assistant to the President on Media and Publicity, Garba Shehu, said the President's arrival ahead of schedule confirmed the Presidency's position that there was no cause for alarm regarding the latest trip, which he said was at the instance of Buhari's doctor.
"Yes, his arrival ahead of schedule has again proven the naysayers wrong.
"Those who said the President won't return as scheduled should begin to look for another narrative," the presidential spokesman said.
Shehu, had in a statement on Monday, announced Buhari's latest medical trip.
The statement had read, "President Muhammadu Buhari will tomorrow (Tuesday) undertake a four-day trip to the United Kingdom.
"In the course of the technical stopover for aircraft maintenance in London on his way back from Washington last week, the President had a meeting with his doctor.
"The doctor requested the President to return for a meeting which he agreed to do. President Buhari will return on Saturday, May 12th.