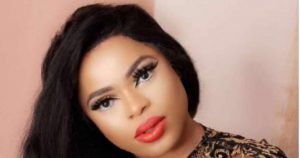 Bobrisky, christened Okuneye Idris Olarenwaju, on Saturday warned "broke guys" who come after her for relationship to steer clear.p
Bobrisky had earlier told his fans that he had become a transgender, and would love to be addressed as a woman.
The cross-dresser took a swipe at some boys as broke, saying his beauty is for politicians in Nigeria and in other countries.
The UNILAG graduate stated that he didn't become a shemale for broke boys, warning them to stay away from him.
"Bia!!! All this broke men coming to my dm to tell me they love me don't let me SLAP you.
"So you mean I turn shemale because of broke boys.
"My beauty is for our politician in Nigeria and other countries not for boys pls stay away.
"As a CEO I should be able to deal with billionaires CEOs," he wrote in Instagram.