Angolan President Jose Eduardo dos Santos on Monday sacked his finance minister Armando Manuel. T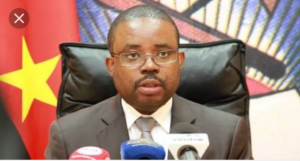 he presidency announced, as the country battles an economic crisis caused by sinking oil prices.
No reason was given for the dismissal of the 44-year-old London-educated minister who has held the post for three years.
He has been replaced by Augusto Archer de Sousa Mangueira, 53, who was chairman of the country's Capital Markets Commission prior to the new appointment.
The new minister takes over of struggling economy which has slumped mainly due to the steep drop in crude oil prices.
The country's currency, the kwanza, has lost more than 60 percent of its value against the dollar since the start of last year.
Economic growth in Africa's leading crude producer, which soared to over 20 percent in 2007, has collapsed to less than two percent.
About 40 percent of the population now lives below the poverty line.
In June, Angola called off talks with the International Monetary Fund (IMF) over a possible loan to ease the current troubles.
Dos Santos also removed the minister of agriculture Afonso Pedro Canga and cabinet chief of staff Edeltrudes Maurício Fernandes Gaspar da Costa.